Tech Titan Security Suite@RM29.80 only!!
Get your Tech Titan today at computer shops nationwide now.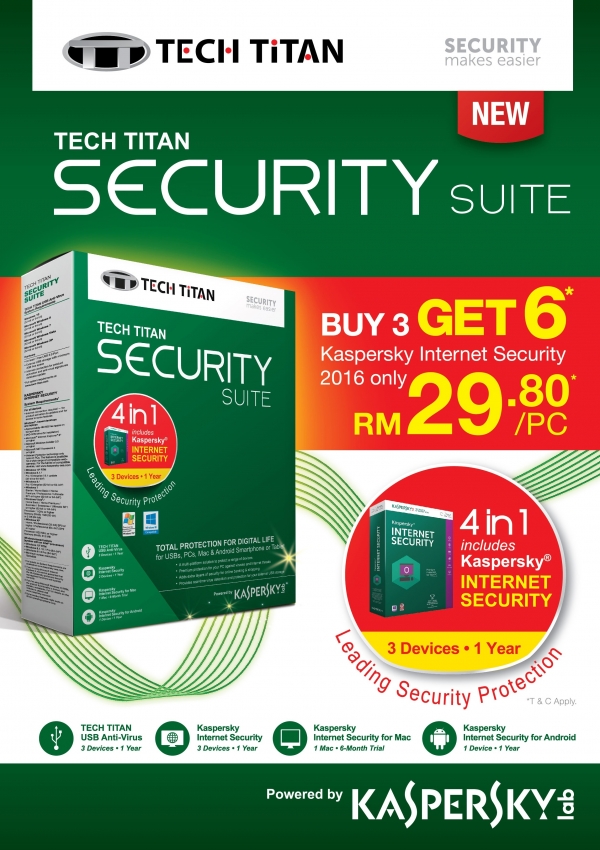 Total protection for digital life
for USBs, PCs, Mac & Android Smartphone or Tablet
A multi-platform solution to protect a range of devices
Premium protection for your PC against viruses and Internet threats
Adds extra layers of security for online banking & shopping
Provides real-time virus detection and protection for your external USB storage
4 in 1 Leading Security Protection includes
Kaspersky INTERNET SECURITY
3 Devices . 1 Year
TECH TITAN USB Anti-Virus
3 Devices . 1 Year
Kaspersky Internet Security for Mac
1 Mac . 6 Month Trial
Kaspersky Internet Security for Android
1 Device . 1 Year
TECH TITAN Security Suite is a multi-platform solution which provides you the ultimate protection for your external USB storage, PCs, Mac and Android smartphone or tablet. It comes with Kaspersky Internet Security that delivers premium protection for your PC, your identity, your money and your family. Kaspersky Internet Security with its advanced security technologies protect against online risks, while also safeguarding your identity and adds security for online & shopping. TECH TITAN Security Suite Is the total security for you to enjoy your hassle free digital life by safeguarding a range of devices.