Apple is holding its event in downtown San Francisco in hours time. Claiming that "We still have a lot to cover", what do you expect  at the company's big event after its iPhone 5S and 5C unveiling last month?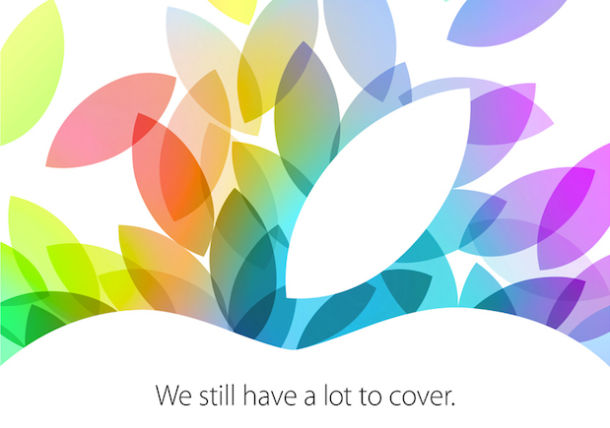 As a roundup of all the buzzing rumors, Apple is reportedly focus on new additions to its iPad lineup, the Mac Pro, and OS X Mavericks. But there are chances that the company will take the wrap off a few surprises. Here's some things to expect–or not expect–when Apple takes the stage.
The next iPad
Historically, Apple has used its late fall press conference to expand its tablet offerings and we expect the 9.7-inch iPad should get an update at the launch, including a thinner bezel, a potential camera upgrade, and maybe a faster processor in the form of a 64-bit A7X chip. There's also a small chance the new iPad could sport a fingerprint sensor, like the iPhone 5S.
A revamped iPad Mini
There are much anticipation on the long-rumored iPad mini 2. While the smaller tablet may not receive all the bells and whistles of the larger iPad–including a current-gen A6 processor–the real focus is on finally upping the device's resolution to Retina Display status. While its competitors Kindle Fire HDX and Nexus 7 are currently beating Apple in the small tablet display department, so it seems like a logical step.
In addition, Apple is expected to announce a formal price and release date for Apple's new Mac Pro computer andOS X Mavericks, both of which were announced at a developer event earlier this year.
We will keep you updated on Apple's announcement. Stay tuned!
Read more:
http://www.ign.com/articles/2013/10/21/what-to-expect-at-apples-october-22-ipad-event