Bloomberg claimed in a new report that Microsoft has reached out to HTC to see if the company would be interested in adding Windows as a second OS to its Android handsets. It isn't clear how the two operating systems would share the handset, but there are some ideas of allowing dual-booting or making a user choose a default at device setup.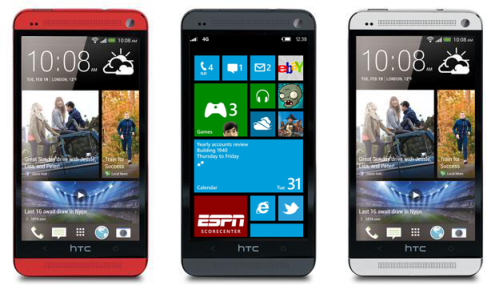 These talks are in very early stages, according to Bloomberg's sources, and there's a possibility that Microsoft may even reduce or eliminate its licensing fee for Windows Phone to make it more attractive to HTC. Due to the former partnership, HTC seems to be Microsoft's main target. There are a couple of reasons this makes sense, including some information TechCrunch has heard about Microsoft and its organizational sentiment towards Android. First, HTC has been one of Microsoft's few hardware partners for Windows Phone, and that relationship is likely strained given the Nokia hardware division purchase. Second, HTC is in a bad way in terms of continuing poor financial performance, and in terms of device sales, so it's probably very willing to consider unorthodox models to help it gain some unique appeal for users.
There were a source suggests that there are contingents of younger engineers at the company who pushed hard to have Android/Windows dual-booting on Surface tablet devices, so there's a willingness to experiment with things very much like this HTC dual-OS smartphone. Those ideas, however came from younger elements within Microsoft's mobile engineering team, and were not embraced by the older, more established elements of senior management.
So, what is your opinion on a dual-OS smartphone?
Read more:
http://techcrunch.com/2013/10/04/microsoft-reportedly-looking-to-put-windows-phone-on-android-devices-starting-with-htc/