Prior to the Consumer Electronics Show in Las Vegas next week, Samsung unveiled two new additions to its Series 7 line of PCs: the Series 7 Chronos, and a new Series 7 Ultra. Both are aimed at both the power user and at the multimedia creation market.
Series 7 Chronos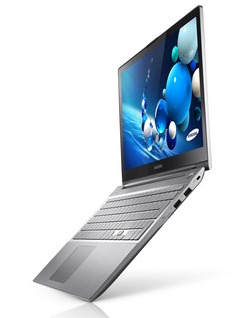 The Series 7 Chronos features a 15.6-inch touch screen, 1,920-by-1080 resolution, quad-core Intel Core i7-3635QM processor, up to 16GB of memory, 1TB hard drive, AMD Radeon HD 8870M graphics, four USB ports (two USB 2.0 and two USB 3.0), HDMI, VGA, and a system weigh just over five pounds. The system comes with a backlit chiclet keyboard and a one-piece trackpad. The Series 7 Chronos boasts an 11-hour battery life and a quick 12-second boot time.[more…]
Series 7 Ultra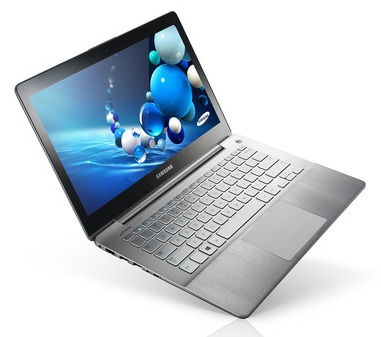 The Series 7 Ultra features a 13.3-inch (10-finger) touch screen, 1,920-by-1,080 full 1080p HD resolution screen, either an Intel Core i5 or i7 processor, AMD HD 8570M discrete graphics, up to 16GB of memory, up to 256GB SSD, three USB ports (one USB 3.0 and two USB 2.0), HDMI, mini-VGA, and a system weight under 3.7 pounds (3.64 pounds touch, 3.22 pounds non-touch). It boasts an eight-hour battery life, and can be fitted with a 4G LTE modem for wireless access anywhere there is a cell signal.
Full Specifications: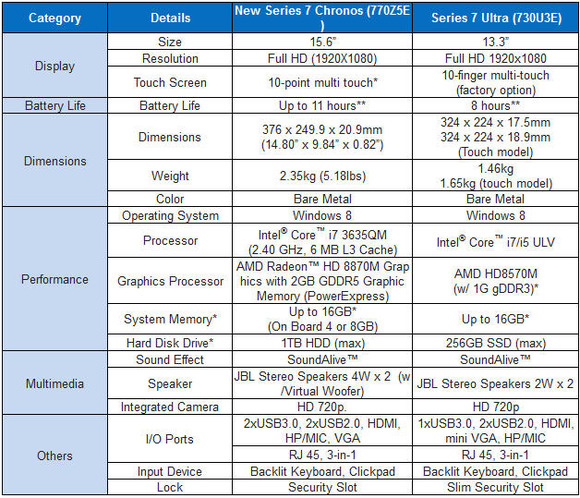 * Available as factory option. ** n.b. All are based on factory specifications. Product design specifications and colors are subject to change without notice and may vary from those shown. Errors and omissions excepted. Battery life based on MobileMark test scores that will vary based on configuration. Warranty service availability and response times may vary from country to country and may also be subject to registration requirements in the country of purchase.
Read more:
http://www.pcworld.com/article/2023625/samsung-showcases-two-new-series-7-laptops-for-ces-2013.html
http://www.pcmag.com/article2/0,2817,2413827,00.asp