At a global unveiling event in New York city last week, Samsung debuted its latest tablets, the Samsung Galaxy Tab S 8.4 and 10.5.
With the tagline "Turn Up The Colour", the Galaxy Tab S features the WQXGA (2560 x 1600 16:10) resolution Super AMOLED display and offers 90% Adobe RGB colour coverage as well as a 100,000 to 1 contrast ratio. Samsung has now set its sights on challenging the all conquering iPad.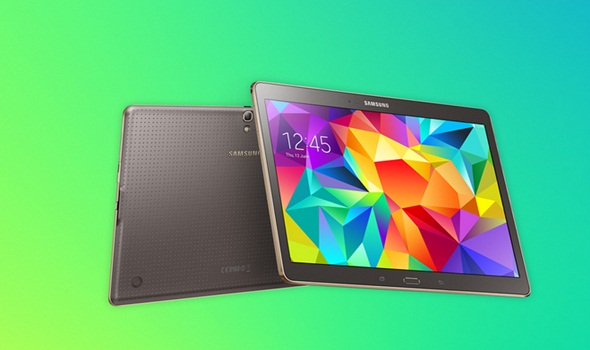 Both the 8.4inch and 10.5inch variants come in WiFi only or WiFi + LTE variants and are powered by an Exynos 5 Octa (1.9 GHz QuadCore + 1.3 GHz Quadcore) or Qualcomm Snapdragon 800 2.3 GHz Quadcore depending on the region of the device.[more…]
Samsung Galaxy Tab S – five key features
The display – Samsung made a big song and dance about these being the first tablets to come with an AMOLED screen. This is the screen technology currently associated with fantastic looking but overpriced TVs. You do get strong colours with AMOLED and films, games and anything else you watch should look as good as, if not better than on your TV.
The display again – Not only do you get AMOLED but both Tab S tablets come with a screen resolution that tops the iPad (2560×1600). Does this matter?  In truth the screen quality on these high end tablets is so good you're unlikely to be able to really tell the difference.
Micro HD – This isn't exciting but it is important. The Galaxy Tab S tablets are available in 16GB or 32GB memory sizes. A chunk of space will almost certainly be swallowed by the Operating System, but you can cheaply expand this with a micro SD card. A 128GB micro SD card, the largest the Tab S will accept, will set you back around £90.
Light weight – Both tablets offer more screen size than their iPad rivals, while still being thinner and lighter. Especially in the case of the 8.4 inch Tab S, this should make it easier to take the tablet out and about.
Call forwarding and Side Sync – No, people won't be holding tablets to their faces to take a call, that'd be mad. Call forwarding links phone and tablet so you can answer or decline a call on the tablet while still being able to carry on with your work. The Side Sync app can also be used to drag and drop content from phone to tablet on the tablet screen.
Samsung Galaxy Tab S 8.4
Category
Specifications
Network
LTE : 800/ 900/ 1800/ 2600+850/ 21003G : 850/ 900/ 1900/ 21002G : 850/ 900/ 1800/ 1900
Processor
Exynos 5 Octa (1.9 GHz QuadCore + 1.3 GHz Quadcore) or Qualcomm Snapdragon 800 2.3 GHz Quadcore*
Display
8.4" 2560×1600(WQXGA) Super AMOLED
OS
Android Kitkat (4.4)
Camera / Flash
8MP w/ LED Flash + 2.1MP Full HD
Video
H.263, H.264(AVC), MPEG4, VC-1, WMV7, WMV8, VP8Recording : FHD(1920 x 1080) @ 30fpsPlayback: WQHD (2560×1440) @ 30fps
Audio
MP3, AAC, AAC+, eAAC+, WMA, Vorbis, FLAC
 Content Services / Applications
Papergarden, Professional pack, Multi-user mode, Sidesync 3.0, Gear & Gear fit manager
Free Downloadable apps
Group Play, S-Note, S Translator, Samsung Link, Scrapbook, Story Album, Video Editor,
Gear Manager, Gear Fit Manager, Samsung Smart Switch, Samsung Level, E-meeting, Kids Mode, Kids Piano(Ding Dong Tap), S-Console, Hanshow, Hancell, Hanwrite
Google Mobile Services
Chrome, Gmail, Google Search, Maps, Play Store, Voice Search, YouTube, Google+, Hangouts, Play books, Play Games, Play Newsstand, Play Movies & TV, Play Music, Drive, Google setting, Photos
Connectivity
WiFi 802.11 a/b/g/n/ac MIMO, WiFi Direct, Bluetooth®4.0, IrLED
GPS
GPS, GLONASS, Beidou(not supported in USA, Canada)
Sensor
Accelerometer, Fingerprint Sensor, Gyro Sensor, Geomagnetic Sensor, Hall Sensor, RGB Sensor*Proximity Sensor(only LTE ver)
Memory
3GB (RAM) + 16/32GB internal memorymicroSD up to 128GB
Dimension / Weight
125.6 x 212.8 x 6.6mm, 294g(Wifi) /298g(LTE)
Battery
4,900mAh
Galaxy Tab S 10.5
Category
Specifications
Network
LTE : 800/ 900/ 1800/ 2600+850/ 21003G : 850/ 900/ 1900/ 21002G : 850/ 900/ 1800/ 1900
Processor
Exynos 5 Octa (1.9 GHz QuadCore + 1.3 GHz Quadcore) or Qualcomm Snapdragon 800 2.3 GHz Quadcore *
Display
10.5" 2560×1600(WQXGA) Super AMOLED
OS
Android 4.4 (Kitkat)
Camera / Flash
8M w/ Flash LED + 2.1M Full HD
Video
H.263, H.264(AVC), MPEG4, VC-1, WMV7, WMV8, VP8Recording : FHD(1920 x 1080) @ 30fpsPlayback: WQHD (2560×1440) @ 30fps
Audio
MP3, AAC, AAC+, eAAC+, WMA, Vorbis, FLAC
Content Services / Applications
Papergarden, Professional pack, Multi-user mode, Sidesync 3.0, Gear & Gear fit manager
Free Downloadable apps
Group Play, S-Note, S Translator, Samsung Link, Scrapbook, Story Album, Video Editor
Gear Manager, Gear Fit Manager, Samsung Smart Switch, Samsung Level, E-meeting, Kids Mode, Kids Piano(Ding Dong Tap), S-Console, Hanshow, Hancell, Hanwrite
Google Mobile Services
Chrome, Gmail, Google Search, Maps, Play Store, Voice Search, YouTube, Google+, Hangouts, Play books, Play Games, Play Newsstand, Play Movies & TV, Play Music, Drive, Google setting, Photos
Connectivity
WiFi 802.11 a/b/g/n/ac MIMO,WiFi Direct, Bluetooth ®4.0, IrLED
GPS
GPS, GLONASS, Beidou(not supported in USA, Canada)
Sensor
Accelerometer, Fingerprint Sensor, Gyro Sensor, Geomagnetic Sensor, Hall Sensor, RGB Sensor
Memory
3GB (RAM) + 16/32GB internal memorymicroSD up to 128GB
Dimension / Weight
247.3 x 177.3 x 6.6 mm , 465g(Wifi)/ 467g(LTE)
Battery
7,900mAh