Samsung will be launching an Android powered refrigerator. It will be equipped with a built-in Android tablets will help people keep track of ingredients, order groceries and act as baby monitors using built-in cameras.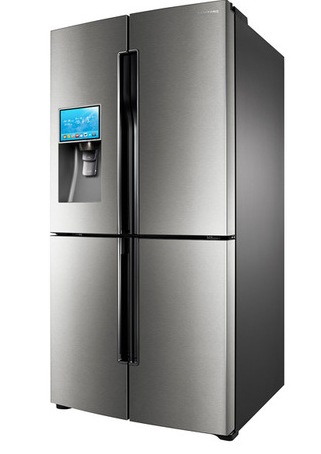 T9000, the Android powered refrigerator of Samsung has a 10 inch LED touchscreen.  It comes with many apps such as Epicurus, Evernote and so on.  Evernote app of the refrigerator can sync with any smartphone or tablet.  The refrigerator has Wi-Fi enabled touchscreen.  Other applications are Google calendar, Photo viewing app, video app etc.  T9000 is a four door refrigerator.  It has 722 liter storage capacity.
T9000 was firstly unveiled at CES 2013 in Las Vegas. Russel Owens, head of sales for digital appliances, Samsung said that the Android powered refrigerator T9000 and the washing machine of capacity 12 kg will be made available in Britain in 2013.  The pricing of the web connected device is not yet announced.  However a mode similar to T9000 model without touchscreen is being offered in American markets for $4,000.
Read more:
http://www.telegraph.co.uk/technology/samsung/9850412/Samsung-to-launch-Android-powered-fridge.html