Samsung presented its much-anticipated latest flagship device, the Samsung Galaxy S4 at  Manhattan's Radio City Hall, New York. The device is touted the Life Companion with plenty of user-friendly features, such as the gesture control, several enhanced camera modes and with more intuitive controls, offering better security and compartmentalization between fun and work while keeping track of your health.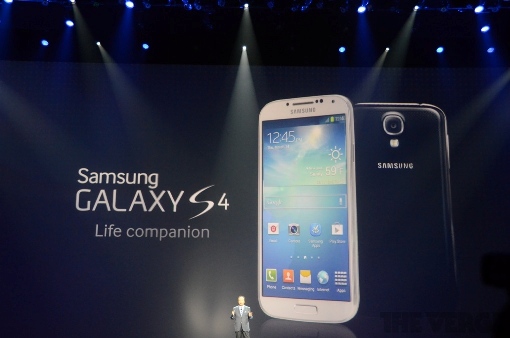 The Galaxy S4 sports a 5-inch full high-definition Super Amoled screen with 441 pixels per inch, covered with  Corning's new Gorilla Glass 3. Its key specs include a removable 2,600 mAh battery, 2GB of RAM, and 16, 32, or 64 GB of storage. Also of note is the new processor — either Exynos 5 1.6GhHz eight-core processor or the more modest quad-core 1.9GHz Qualcomm Snapdragon S4 Pro processor, depending on the region. The phone will run on Google Android 4.2.2 and it boasts a 13 MP rear camera.[more…]
New photo-taking experience
The company said that the new device with its 13-megapixel rear camera and a 2-megapixel front can take more than 100 shots in four seconds and then select some to composite into a single frame — the company says this will help eliminate photo bombs. It also has  the "Sound and Shot" feature that lets you record five seconds of audio before you take a photo, while the "dual camera" mode enable you to take shots with both the front and back cameras and integrates them into a single scene.
S Voice Drive
The feature helps to ease your driving experience. Pair it with the car bluetooth and you will automatically activate the S Voice Drive. This new assistant will read out your text messages and emails, and you can then reply or call the sender with voice commands. It also includes features such as answering calls, grabbing weather info, and finding a restaurant all while navigating as well.
Samsung Smart Scroll/Pause
With "Smart Pause" feature, you can pause a video simply by looking away and resume when you look back, while "Smart Scroll" lets you move through emails or web pages without looking at the screen, what you need to do is just to tilt the phone slightly to scroll up or down.
S Health
You can pair up your phone with the S Band (fitness wristband), Body Scale, Heart Rate monitor and other similar accessories, makes the S4 the best pedometer, calorie-counter, habit-tracking device you can have, all in one. All your data can also be displayed in an easy-to-read report.
The Galaxy S IV will be available in two colors, Black Mist and White Frost. According to Samsung, the phone will be launched at the end of April in 55 countries, however there is no word on pricing yet.
Read more:
http://www.hongkiat.com/blog/samsung-galaxy-s4-features/
http://www.theverge.com/2013/3/14/4105806/samsung-officially-announces-the-galaxy-s4/in/3869945