The Samsung Galaxy S5 is official finally! The Korean smartphone maker launched its 2014 flagship at MWC. The phone boasts a larger screen, better specs and also features dust and water resistant.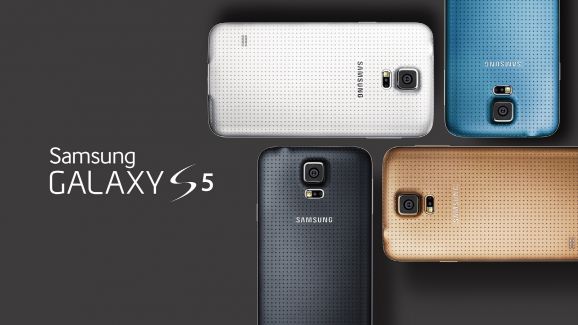 [more…]
The latest device from Samsung  now has a pebbled silver back that looks like it's metal but is actually polycarbonate. Samsung calls it "perforated" and also a "modern glam look". It features IP67 dust and water resistance which would be a great benefit for swimmers.
The other big new hardware feature here is the fingerprint sensor. Different from Apple's on the iPhone 5s, it can register three separate fingerprints, and registration takes eight swipes (it's swipe-based, rather than asking you to hold your fingerprint down as with Apple's). You can unlock the phone using fingerprint recognition, but also use it to authorize PayPal to make payments online – for anything. That's much wider-reaching than Apple's usage of fingerprints, which is limited to unlocking and to finalizing purchases made via iTunes.
The phone screen is  now slightly larger, with a 5.1-inch screen and it comes with a removable back cover as well. Inside the S5 boasts a 2.5GHz Snapdragon 800 processor with 2GB of RAM, an IR remote, NFC, Bluetooth 4.0 BLE/ANT+, Cat 4 LTE and your choice of 16GB or 32GB of internal storage. Samsung is bragging that the combination of MIMO tech and Wi-Fi tech will boost your Wi-Fi so much that you'll be able to download a whole GB in just a minute. The battery is a hefty 2,800 mAh, and the S5 comes with some power-saving features so apparently even when your phone hits 10 percent, it can last another 24 hours on standby. Additionally the S5 comes with USB 3.0, a 2.1 MP front-facing camera, and a dual-LED flash.  The phone runs Android 4.4 Kit Kat, and while it still has the TouchWiz UI, it has been cleaned up to look a lot better.
The S5 also comes fitted with a heart rate monitor, which is built into the back of the phone on the same part as the LED flash. Teamed up with the S-Health app, and your S5 is also a fitness tracker.
The Galaxy S5 is expected to be available in April but there's no word on pricing from Samsung yet.
Read more:
http://gizmodo.com/samsung-galaxy-s5-new-design-and-a-weird-fingerprint-s-1529781654