The Samsung Galaxy S4 and HTC One are the two most significant Android Titans of the year. Both the phones pack powerful components, advanced features, and cutting-edge software. While these two flagship phones are arriving in Malaysia market soon, have you started to struggle on which phone to go with. Read up the comparison!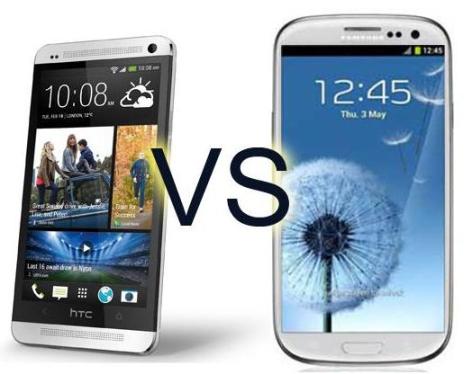 Design
The Galaxy S4 and HTC One have a completely different concept in design. The Galaxy S4 looks similar to its predecessor the S3, with body made of light plastics. On the other hand, the HTC One features aluminium unibody casing which gives a premium and impressive appearance. One consequence of the aluminium casing is that the HTC One does weighs 146g; this is about 16g heavier than the S4, which is noticeable but not significantly.[more…]
Display
Galaxy S4 sports a massive 5-inch HD Super AMOLED display with its high contrast and lush colors. It also features a sharp 1,920×1,080-pixel resolution and a pixel density of 441ppi (pixels per inch). HTC gave the One a slightly smaller 4.7-inch LCD screen which is more natural and also quite vibrant. It boasts the same 1,920×1,080 resolution. As a result, the HTC One's display has a higher pixel density of 468ppi.
Interface and Functionality
Both phones come preloaded with Jelly Bean, but the Galaxy S4 has an edge as it features the very latest version, 4.2.2, out of the box, while the One is initially equipped with 4.1.2 which is upgradable.
HTC and Samsung have worked on the software to create better user experience.  The Galaxy S4 has a refined version of  TouchWiz Nature UX, which is a typical Android style interface, with multiple pages, icons and widgets, but it's an especially well-crafted piece of software that runs fluidly and offers numerous unique features like Multi-Window and Smart Stay. Also the device features the eye-tracking technology that will pause a video you're watching when you look away.
While the HTC One have the new BlinkFeed interface, which takes center stage in the new UI. Think a Flipboard kind of interface used to display stuff like news and updates from your social networks. Besides BlinkFeed, you can also have a typical Android UI with icons and widgets.
Processor and Memory
The Galaxy S4 comes in two versions – one with Snapdragon 600 CPU and one with Exynos 5 Octa CPU, depending on the market. The one with Snapdragon 600 has been tested by phone Arena, which is the same chipset in use by the HTC One as well. Both devices are armed with 2GB of RAM and the Adreno 320 GPU, and both run perfectly.



Quadrant Standard

AnTuTu

GLBenchmark 2.5 (Egypt HD)

Vellamo
(HTML5 / Metal)

Samsung Galaxy S4

12078

24701

4437

1702 / 704

HTC One

12481

23308

3551

2395 / 781
The Galaxy S4 comes with 16, 32 and 64GB versions, all of which expandable with a microSD card slot. Meanwhile, the HTC One comes with either 32GB or 64GB with no any microSD card slot for storage expansion.
Camera
The Samsung Galaxy S4 features a 13-megapixel rear-facing camera whereas the HTC One only offers a 4-megapixel camera. The higher resolution of the Galaxy S4 definitely gives it an edge when it comes to details. However, more megapixels don't necessarily make for a better photos, the actual size of a megapixel dictates how much light filters into your shots. That's why the HTC One's snapper has been branded as an 'UltraPixel' camera, its bigger pixels produce some impressive snaps that are the equal of what Samsung's Galaxy S4 can create.
The HTC One has the unique Zoe mode, which captures short video footage along with each shot, making for an impressive multimedia experience when viewing. The GS4 has a bunch of special features of its own, like Drama Shot, Sound and Shot, Story Album and so on, which can prove useful in certain situations.
Battery
Samsung equips the Galaxy S4 with a 2,600mAh battery that's user removable. By contrast, the HTC One features a slightly lower capacity 2,300mAh battery, which is embedded and non removable.
It's rather difficult to choose among Galaxy S4 and HTC One. Think twice on your need for mobile phone!
Read more:
http://www.phonearena.com/reviews/Samsung-Galaxy-S4-vs-HTC-One_id3282
http://www.cnet.com/8301-17918_1-57579429-85/samsung-galaxy-s4-vs-htc-one-a-clash-of-two-android-titans/