The Mobile World Congress will be kicking off in few hours time. Ahead of the event, the Korean technology giant Samsung has announced the Galaxy Note 8.0. The tablet focuses on offering easier and faster than ever note-taking through new software and updated S-Pen technology.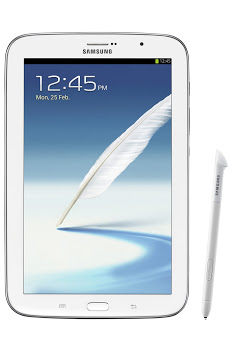 [more…]
The Galaxy Note 8 features a 8-inch WXGA display with a resolution of 1280×800. Under the display will be a 1.6GHZ quad-core processor, 2GB of RAM, 16 or 32GB of internal storage expandable with a microSD slot and Android 4.1.2 Jelly Bean. The device also comes with a 1.3-megapixel front camera and 5-megapixel rear camera.
Samsung also said that the Galaxy Note 8 will be featuring new S-Pen technology which allows you to more easily write and track notes, as well as interact with your device through the S-Pen. The Awesome Note, an integrated application that is introduced in android tablet for the first time with NOTE 8.0, is capable of unlimited note-taking uses including Memo, Diary and Must-remember lists. In addition, creative multi-tasking with the GALAXY Note 8.0 is effortless due to innovative Dual View feature, two multi window options that seamlessly allow you to facilitate multi-screen usage. Dual View's split screen accommodates optimal operation of different apps, such as launching the S Note on the web browser screen and allowing content to be resized, dragged and dropped as required.
Read the press at :
http://www.samsungmobilepress.com/2013/02/24/INTRODUCING-THE-GALAXY-NOTE-8.0,-A-NEW-ERA-OF-PORTABILITY-AND-EVERYDAY-PRODUCTIVITY