Samsung launched its first curved OLED TV on the market yesterday. Priced at 15 million Korean won (around $13,000) Samsung claims its "Timeless Arena" design eliminates potential for defective OLED pixels.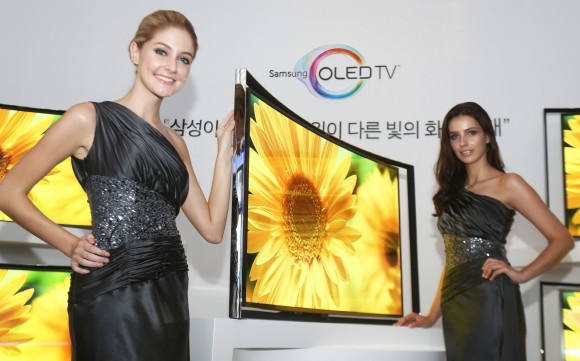 Samsung first showed off its curved OLED skills back at CES in January, but it missed the first-to-market crown; LG beat it to stores with its own curved TV. That landed in Korean stores a couple of months back, though so far the company is yet to say exactly how many it has sold. However, both the companies are only offering 1080p Full HD resolution, you will still need to stick to the traditional flat model if you want Ultra HD.
Viewers looking at the sizable screen will get a better all-round experience thanks to the consistent distance from each point on the display, the company claims, missing out on the sort of distortion that can happen when glancing at the corners of traditional, flat panels. It also supports features found in other Samsung TVs like multi-view that lets two people watch different things at the same time thanks to 3D glasses, and the Evolution Kit CPU upgrade.
The new Samsung curved OLED  has started to go on sale in South Korea but there's no word on when  Samsung will begin offering the curved set in international markets.
Read more:
http://www.slashgear.com/samsung-curved-oled-tv-goes-on-sale-27288236/