Flip phones are making a comeback thanks to Samsung. The company has rolled out a new flip phone dubbed the SCH-W789 Hennessy. The small and narrow device comes in a light-purple-colored shell and it features a very retro numerical keyboard for dialing.
The Hennessy flip phone features a pair of 3.3-inch 320×480 touchscreen displays, has three capacitive buttons on the front for additional control, and runs the Android 4.1 operating system. The Hennessy features a 1.2 GHz quad-core processor, 1 GB of RAM a microSD card slot for storage expansion, five-megapixel rear camera, and a 1500 mAh internal battery.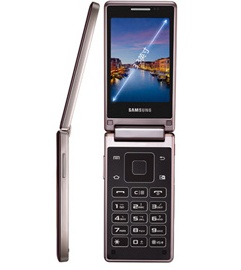 Other hardware features include USB 2.0, Bluetooth, GPS, and Wi-Fi capability. The phone is reportedly designed to work with CDMA and GSM networks allowing it to work with China Telecom, China Unicom and China Mobile.
There is no indication of exactly how much the phone will cost, but the specifications certainly sound like a mid-range device.
Read more:
http://www.dailytech.com/Samsung+Announces+Modern+Dual+Screen+Hennessy+Flip+Phone/article33168.htm