Just days after the official announcement of the Verizon-bound Lumia 928, Nokia took the wraps off another new model, Lumia 925 during its London press event yesterday. The Lumia 925 is Nokia's first metal phone which comes with the latest Windows Phone 8 update.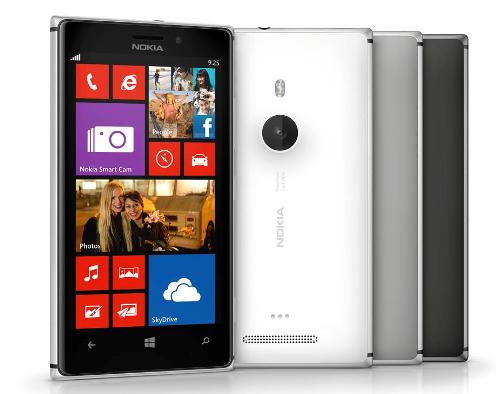 The phone has an aluminum frame which runs around the body, while the rear is made from polycarbonate and the front of glass. The Lumia 925 is slimmer than the 920, it has a width of 8.5mm and weighs 139 grams, in comparison to the 920's thick 10.7mm and 185 grams.[more…]
The Lumia 925 shines with its 8.7MP PureView camera with optical image stabilization and dual LED flash. The Lumia 925 camera now includes a sixth physical lens—an industry first. This means the phone's Carl Zeiss optics are able to take in five times more light than competing smartphones for sharp, naturally-colored images and 1080p HD video, even under challenging conditions. The Lumia 925's onboard imaging software algorithms have also been tweaked to help make the camera perform even better in low light, and to improve color reproduction and reduce noise in shots. The new Smart Camera feature also adds credit to Lumia 925 camera.
The Lumia 925 features a 4.5-inch AMOLED WXGA touchscreen with a resolution of 1280 x 768 and curved Gorilla Glass 2. It is powered by a 1.5 GHz dual-core Snapdragon processor, 1GB of RAM, and comes with  16 GB of internal memory and 2000 mAh battery. Nokia Lumia 925 will be available in white, grey and black matte.
Specifications:
Display

Display size: 4.5 "
Display technology: AMOLED
Touch screen technology: Super-sensitive touch

Photography

Main camera sensor: 8.7 MP PureView

Power management

Maximum 2G talk time: 18.3 h
Maximum 3G talk time: 12.8 h
Maximum 3G standby time: 440 h
Music playback time: 55 h
Wireless charging: Yes, with accessory cover

Processor

Processor name: Qualcomm Snapdragon™ S4
Processor type: Dual-core 1.5 GHz
Read more:
http://www.nokia.com/global/products/phone/lumia925/
http://blogs.windows.com/windows_phone/b/windowsphone/archive/2013/05/14/nokia-s-first-metal-windows-phone-arrives-meet-the-sexy-lumia-925.aspx