Nokia has released its first Android devices, named the Nokia X, X+ and XL at Mobile World Congress in an attempt to gain more traction in the lower end of the market. Microsoft might be buying Nokia's phone business shortly, but the Finnish smartphone maker is still pushing ahead with the launch of three Android-powered handsets yesterday at MWC. These aren't competitors to Samsung's Galaxy S4 or Apple's iPhone 5S, and there are certainly no surprising hardware additions like a 41-megapixel camera or a giant 6-inch display. Instead, the stand out feature of the Nokia X line up is the software that powers it: Android.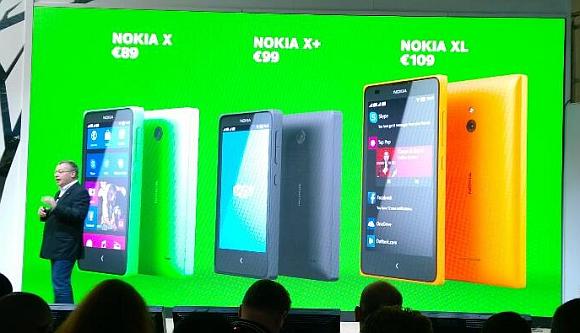 [more…]
Nokia X is priced at about RM405 and it is available immediately in Asia Pacific, Europe, India, Latin America, Middle East and Africa. The Nokia X+ is priced at about RM450 and the larger 5″ Nokia XL at about RM500. Availability for the Nokia X+ and Nokia XL is targeted for Q2 this year. To sweeten the deal, new Nokia X range comes with 1 month free Skype Calls to landline and mobiles. All 3 will be available in 6 colours – bright orange, yellow, white, green, blue and black.
Nokia may have pledged allegiance to Microsoft's Windows Phone software, but that hasn't stopped the company from experimenting with Android. The X introduces a new "forked" version of Android that's akin to what Amazon does with its Kindle Fire line. Nokia is effectively taking the open-source elements of Android and then bolting on its own services, a Windows Phone-like UI, and yet another Android app store. The downside to this is that the Nokia X devices won't have access to Google's Play store or Google-specific apps like Gmail, Chrome, Maps, and others. However, Android apps will run on the devices with only limited changes required by developers. Nokia is creating its own store where it will curate "hundreds of thousands" of apps. Third-party stores will also be integrated into the Nokia Store, providing other sources for Android apps. The Nokia X will also support side loading, just as Amazon's Kindle Fire tablets do. [more…]
If you put the Nokia X side-by-side with the company's Lumia 520 handset it might be hard to tell them apart. The same striking colors and design are available on both, and they each use the same 4-inch display. Nokia is not going for the high-end with the X at all, and the company has clearly trimmed its hardware specifications as much as possible to ensure the phone is low-cost but still usable. There are just 4GB of storage with 512MB of RAM, but microSD cards will be supported to help boost the tiny amount of storage available. The Nokia X+, identical in appearance to the X, also boosts both the storage and memory. Apart from the internal storage and dual-SIM support, the Nokia X only really differs from the Lumia 520 on the outside, with a lack of Windows Phone's three capacitive buttons and a slight camera change.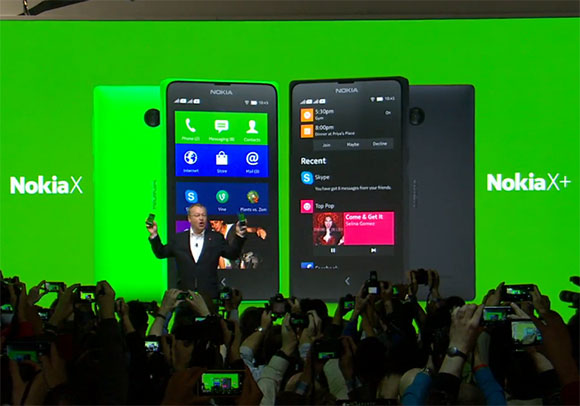 Nokia's XL takes a slightly different approach, with a 5-inch display and a combination of a 5-megapixel rear camera and 2-megapixel front-facing one. Nokia is positioning the XL as "great for Skype, while the X and X+ both ship with just a 3-megapixel fixed focus camera. All three have just a single capacitive button for navigation. You hit the button once to go back and hold it down to return to the home screen. Software customizations on the home screen and across the OS are where the X line gets interesting, or, perhaps, confusing. Nokia has created a Windows Phone-like tiled home screen that looks like a blatant rip of Microsoft's own UI. All installed apps will be displayed here instead of a separate app drawer, and you can even alter the tile sizes to be medium or large. They're not as live as Windows Phone's versions or Android widgets, but apps like the calendar will display the date as you'd expect. You can also display widgets from installed apps on the home screen.