Nokia has announced a string of new devices  at an event in Abu Dhabi on Tuesday, the last products the company will make before it is taken over by Microsoft. They include a pair of phablets dubbed as Lumia 1520, Lumia 1320 and its first colourful 10.1-inch Windows RT 8.1 tablet, aiming to take on Apple's iPad.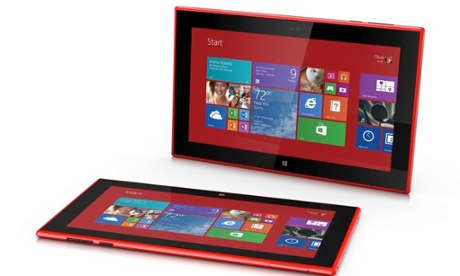 Nokia's 10-inch Windows RT tablet: the Lumia 2520
The Nokia Lumia 2520 is the company's first tablet, which is priced at $499 in the US with similar (but as yet unknown) costs expected for the UK. The device features top-of-the-range components, including a 2.2GHz quad-core Snapdragon 800 processor with 2GB of RAM, which should handle multi-tasking and gaming well. Built in is 32 or 64GB of storage, depending on model, while the 2520 is equipped with a micro SD card slot for adding up to 64GB more storage. It comes with a 8,000 mAh battery which should provide around 10 hours battery life, according to Nokia.
Nokia has also included a micro USB 3.0 port for fast data connections to external devices, as well as micro HDMI for connecting to an external display or television.[more…]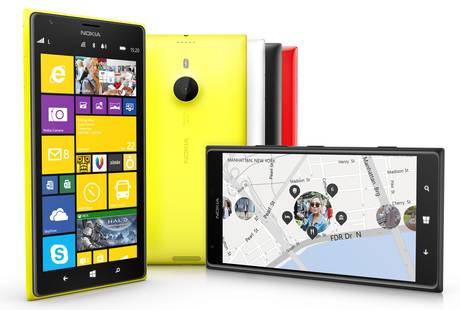 Nokia Lumia  1320 and 1520
Two new phablets were unveiled with 6-inch screens, taking advantage of the latest update to the Windows Phone operating system that allows for extra apps to appear on the home screen.
The Lumia 1320 is a more affordable phablet which has a lower resolution 720p 6-inch screen, a slower 1.7GHz dual-core Snapdragon S4 processor, 1GB of RAM and 8GB of storage with a micro SD slot.
The 1320 mirrors the design language of Nokia's more affordable Lumia 625, with rounded corners and sports a traditional 5-megapixel camera without Nokia's PureView imaging technology
The Lumia 1520 packs high-end internal parts, with a 2.2GHz quad-core Snapdragon 800 and 2GB of RAM. Its built-in 3,400 mAh battery with wireless charging provides up to nine hours video playback or 29 days standby time.
To store music, movies, apps and games, Nokia equipped the 1520 with 32GB of storage as standard, plus a micro SD card slot for adding up to 64GB of extra storage. Microsoft is also bundling 7GB of SkyDrive cloud storage with each 1520.
The Lumia 1520 comes with an impressive 20-megapixel camera, the 1520 has optical stabilisation and oversampling technology for a two-times lossless digital zoom and shake-free pictures, which should make indoor low-light photos better with less blur and noise. Using the 20-megapixel camera, Nokia has also added the ability to refocus a picture after taking it, using some clever Nokia-developed software algorithms, while the new Story Teller app allows you to browse your photos in a timeline and across map locations provided by Nokia's HERE maps.
Read more:
http://www.independent.co.uk/life-style/gadgets-and-tech/news/nokia-launch-two-phablets-and-the-lumia-2520-windows-tablet-8895001.html