Both Google and Samsung have unveiled their latest version of  7-inch tablets in July. Nexus 7 and Galaxy Tab 3, which is better? Let's head on to their comparison!
Size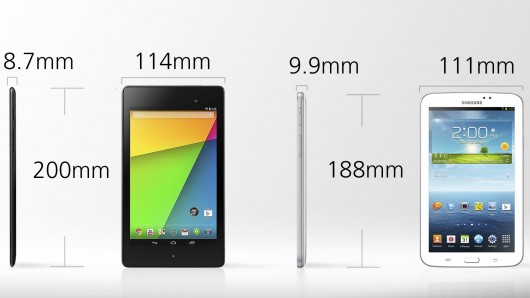 The new Nexus 7 is six percent taller and three percent wider than the Galaxy Tab 3 7.0. The Google/Asus tablet is, however, 12 percent thinner than the Tab.[more…]
Weight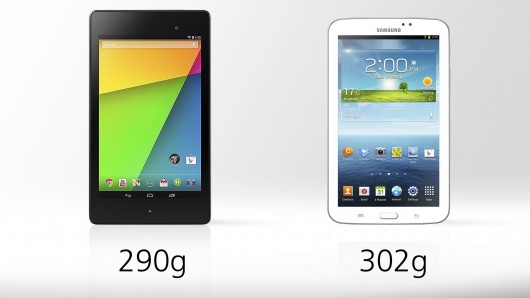 Despite the slightly longer and wider frame, Nexus 7 has lighter weight.
Build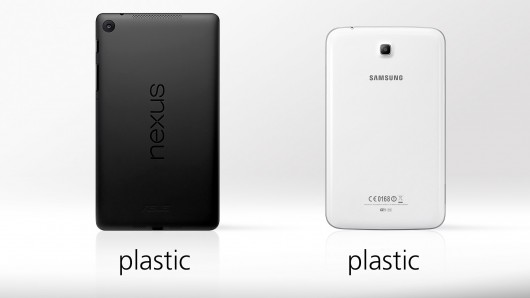 Both tablets are made of plastic. The new Nexus 7 drops the rubbery backing that the original had, in favor of a matte finish. The Galaxy Tab's glossy plastic build continues the design trend in most of Samsung's recent Galaxy devices, including the Note 8.0 and the GS4.
One notable difference is that the Galaxy Tab has a physical home button, and capacitive back and menu keys. The Nexus 7 puts those navigation keys onscreen.
Display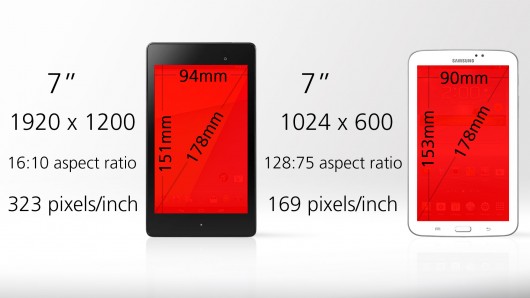 Despite having identical diagonal screen sizes, the Nexus 7's display is actually a smidge bigger (the Tab 3 gives you 97 percent as much screen real estate). But those persistent onscreen buttons in the Nexus 7 hijack some of that, giving the Tab 3 a bit more usable screen area.
When comparing these screens, though, the biggest thing to note is that the Nexus 7's display is much sharper. It gives you 275 percent more pixels than the Tab 3 gives you.
Processor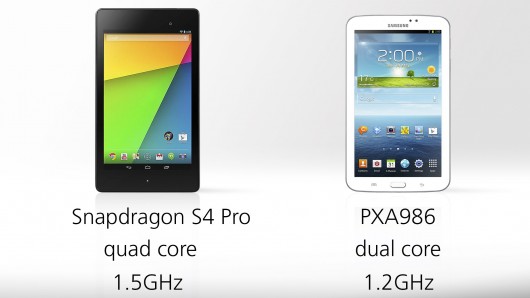 This is another enormous advantage for the Nexus 7. The Galaxy Tab 3 7.0 has a mid-grade processor, which isn't in the same class as the speedy Snapdragon in the Nexus 7.
RAM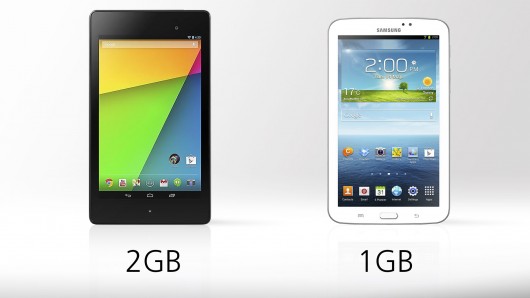 The Nexus 7 also doubles the Tab 3's RAM.
Storage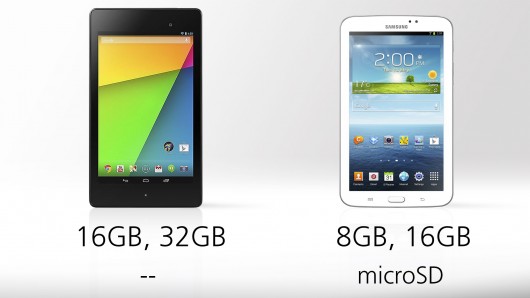 The Nexus 7 also beats Samsung's tablet in internal storage, though you can augment the Tab's internal flash memory with a microSD card. Just know that you can't install apps on that SD.
Wireless


Both tablets are sold in mobile data-enabled models, but the Galaxy Tab lacks LTE. It maxes out on HSPA+ networks, which are faster than 3G, but not as fast as 4G LTE.
Battery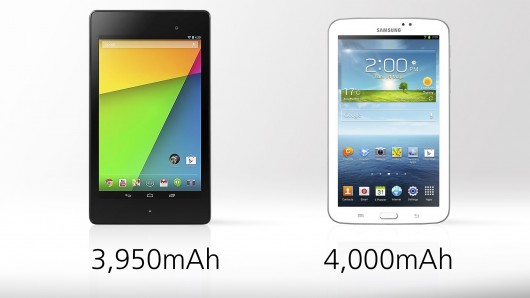 Battery capacities are almost identical.
Cameras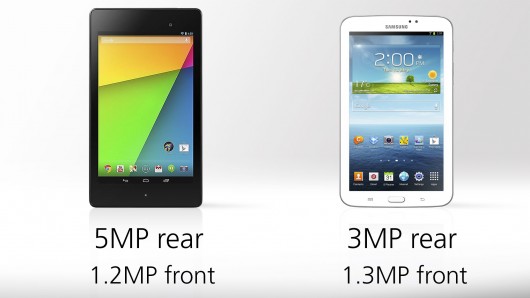 The Nexus 7 wins on megapixels, for what that's worth.
Software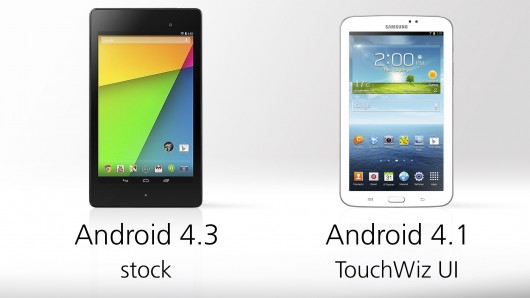 Both tablets run Android, but the Nexus 7 is in much better shape here. It runs the brand-spanking new Android 4.3, and it will receive future updates as soon as they're released. The Tab 3 runs an older version, has Samsung's TouchWiz layered on top, and you don't have any guarantees regarding future updates.
Release cycle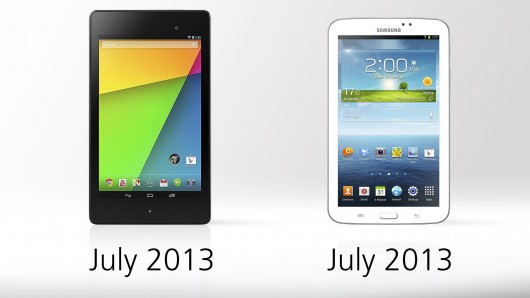 Both tablets just hit store shelves.
The Nexus 7 seems to beat Galaxy Tab in most comparisons but it costs about USD 30 extra with pricing starts at USD 229 while Tab 3 costs at USD 200.
Read more:
http://www.gizmag.com/galaxy-tab-3-vs-nexus-7-2013/28479/