On Tuesday, Microsoft Corp. introduced Surface Pro 3 — the lightweight tablet that packs the power and performance you expect from a laptop.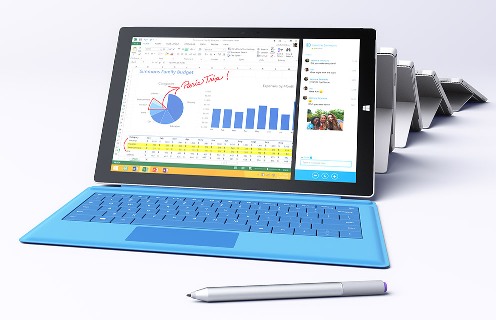 [more…]
Surface Pro 3 is a tablet and a laptop: multiple processor, RAM and storage options intersect with a sleek design that, with a simple snap or click, transform the device from a perfectly balanced tablet to a full-functioning laptop and back again — all in a beautiful package that is 30 percent thinner than an 11-inch MacBook Air.
"So many people carry both a laptop and a tablet but really want just one device that serves all purposes," said Panos Panay, corporate vice president, Microsoft Surface. "Surface Pro 3 is the tablet that can replace your laptop — packing all the performance of a fully powered laptop into a thin, light and beautifully designed device. You'll love being able to carry a single device for your next class, workday or weekend getaway knowing you have all the power you need."
Powered by an Intel Core i processor, Surface Pro 3 will be available in several configurations. The basic model, which has a Core i3 processor and 64GB internal storage, will cost $799. Despite packing in a Core i processor, the tablet runs cool. Microsoft claims it is the slimmest (9.1mm) device with a Core i processor.
Surface Pro 3 has a 12-inch screen with a resolution of 2160 x 1440 pixels. It features an adjustable kickstand, has a casing made of magnesium and weighs around 800 grams. It has two cameras – 5MP each – in the front and rear. The device uses Windows 8.1 Pro.
The tablet will also be available with a Core i3 or a Core i7 processor. The device has 4GB RAM in standard configuration but consumers will have the option to go for 8GB RAM. Similarly, if consumers want, they would be able to opt for the model with 512GB internal storage. The fully upgraded model of Surface Pro 3 will cost around $1,949.
Like earlier Surface tablets, the Surface Pro 3 will also be compatible with a few accessories. "New Surface accessories like the improved Surface Pro Type Cover will take Surface Pro 3 from tablet to laptop in a snap. The new premium Surface Pen with pressure sensitivity enables a more natural writing experience, while a full-size USB 3.0 port, microSD card reader and Mini DisplayPort allow for quick file transfers and easy connections to a range of peripherals," said Microsoft. The accessories will cost extra.