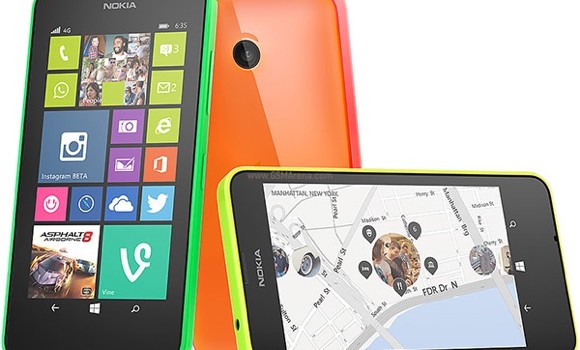 There are very few smartphones with 512MB of RAM these days and most of them are members of the Lumia lineup. Windows Phone has always been a very light operating system, which allows Microsoft the luxury.
Microsoft has recently unveiled the affordable Lumia 435 and Lumia 532. Both phones feature low-end specs, but they both come with 1GB of RAM. This leaves Lumia 530 and 630/635 the last of the 512MB RAM kind. Microsoft has recently confirmed all WP8 smartphones, including those with 512MB RAM will get the Windows 10 update though. 
It seems Microsoft has decided the Lumia 635 deserves a specs bump too. Just yesterday we spottedthe Lumia 635 with 1GB on Telenor Hungary. And today Microsoft updated the official specs page and it now says "RAM: 512 MB or 1 GB". Microsoft states that the RAM varies in selected markets, but it's still unclear which countries will get the better model.
Note than the Lumia 635 with 1GB RAM has lesser battery life than the one with 512MB – the standby time has decreased from 25 days down to 19 days.
It's odd Microsoft updating the Lumia 635 eight months after its release, but Windows 10 might be the reason for the change of heart. Microsoft said it is working on a special version of the Windows 10 update, which will be able to run on devices with 512MB of RAM. Apparently the company needs to disable some features and do further tweaking on each Lumia with less RAM and we guess it may want to spare some work in the future by bumping the RAM on some phones.
Nokia Lumia 635 is the LTE-enabled flavor of the Lumia 630 and it comes with 4.5″ FWVGA display and a quad-core processor. It sold very well during the holiday season thanks to all those great promo deals Microsoft has launched over various carriers and retailers. We've recently previewed the Windows 10 for Phones on a Lumia 630 and you may want to check it out right here.