LG has finally officially unveiled its flagship Android handset, the G3. Boasting a quad-HD display and an improved user interface, LG is poised to make a big leap with the G3. However, the G3 is facing challenging competition from Samsung Galaxy S5 and HTC One M8. We take a look at all three flagship Android handsets with a spec showdown.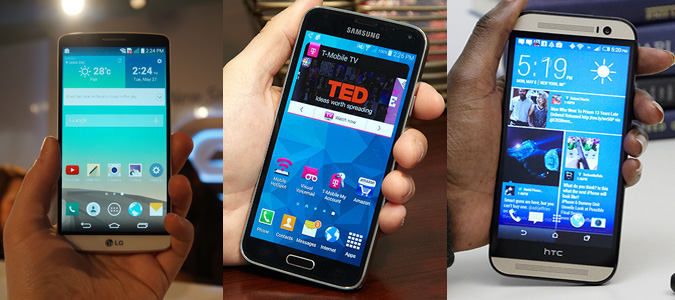 | | | | |
| --- | --- | --- | --- |
| Phone | LG G3 | Galaxy S5 | HTC One M8 |
| Size | 146.3 x 74.6 x 8.9mm | 142 x 72.5 x 8.1mm | 146.36 x 70.6 x 9.35mm |
| Weight | 149g | 145g | 160g |
| Screen | 5.5-inch IPS LCD | 5.1-inch Super AMOLED | 5-inch Super LCD 3 |
| Resolution | 1440×2560 | 1080×1920 pixels | 1080×1920 pixels |
| OS | Android 4.4.2 with GUI | Android 4.4.2 with TouchWiz UI | Android 4.4.2 with HTC Sense 6 |
| Internal Storage | 16/32GB | 16/32GB | 16/32GB |
| Expandable Storage | Up to 128GB | Up to 128GB | Up to 128 GB |
| SD Card Slot | Yes | Yes | Yes |
| Processor | 2.5GHz quad-core Snapdragon 801 | 2.5GHz quad-core Snapdragon 801 | 2.3GHz quad-core Snapdragon 801 |
| RAM | 2/3GB | 2GB | 2GB |
| Connectivity | Wi-Fi, 4G LTE, HSPA+, NFC, USB 2.0 | Wi-Fi, 4G LTE, HSPA+, USB 3.0, IrLED, NFC | Wi-Fi, 4G LTE, HSPA+, USB 2.0, NFC |
| Camera | Front 2.1MP, Rear 13MP | Front 2.1MP 720p HD, Rear 16MP 1080p HD | Front 5MP 1080p HD, Rear 5MP UltraPixel 1080p HD |
| Bluetooth | Yes, version 4.0 | Yes, version 4.0 | Yes, version 4.0 |
| Battery | 3000mAh, removable | 2800mAh, removable | 2600mAh, non-removable |
| Charger | Micro USB | USB 3.0 | Micro USB |
| Marketplace | Google Play Store | Google Play Store | Google Play Store |
| Color Options | Black, white, gold, violet, red | Black, white, copper, blue | Silver, rose, gold, grey |
| Extra Features | Laser Auto Focus, Knock Code, Knock On, | Heart rate monitor, fingerprint scanner | BoomSound, BlinkFeed, Duo Camera |
[more…]Design and performance
LG chose to equip the G3 with a scratch-resistant, polycarbonate metallic skin for a more premium look, but it's still plastic. Likewise, Samsung stuck with plastic for the Galaxy S5. HTC, meanwhile, continues the design philosophy that started with the One M7 and iterates it further with the One M8. The M8 is 90 percent aluminum and looks/feels better than the other two.
When it comes to the user interface, LG, Samsung, and HTC all mark 2014 as the year of simplicity. All three companies have toned back their respective user interfaces, but at the end of the day, the recommendation seems to stay the same. The UI found on the G3 will appears to be as feature-rich as the one found on the Galaxy S5. If you don't want as many features, the One M8 is nice, as is the Moto X and Nexus 5.
In terms of displays, the Galaxy S5 utilizes a 5.1-inch Super AMOLED with a resolution of 1080 x 1920 pixels. While the resolution of the One M8′s display is the same, it uses Super LCD 3 rather than Super AMOLED. Finally, the G3 ups the ante in a big way with a 5.5-inch 1440 x 2560 IPS Quad-HD display.
Things remain the same when it comes to the processing power of all three handsets. The G3, Galaxy S5, and One M8 all feature the latest and greatest from Snapdragon, the quad-core Qualcomm 801 processor, as well as 2GB of RAM. While the One M8 is clocked at a slightly lower speed than its peers, performance should remain similar across the board.
Camera
Samsung doesn't tout the 16-megapixel camera found on the Galaxy S5 much nowadays, but HTC and LG do the complete opposite. The One M8′s claim to fame is the Duo Camera, a feature that enables depth of field in pictures taken with the handset's 5-megapixel UltraPixel camera. While the feature can be approximated on the software level, because the Duo Camera is hardware-based, no other phone can truly emulate the effect. LG, meanwhile, has incorporated what the company calls Laser Auto Focus into the G3. In short, it allows for very fast focus speed.
Combined with improved optical image stabilization, the G3′s 13-megapixel camera looks like a winner on paper, especially since it looks to be a nice improvement on the G2′s camera, itself an excellent shooter. However, the One M8′s camera has the advantage of taking great pictures in less-than-optimal lighting conditions, though daytime shots are rather pedestrian. Not one to be ignored, the Galaxy S5′s 16-megapixel camera takes rather excellent photos, though Samsung tried, and failed, to emulate the Duo Camera feature found on the One M8.