Lenovo added a new device, the Erazer X510 to its gaming series. Let's meet the latest beast in Lenovo's stable of gaming towers!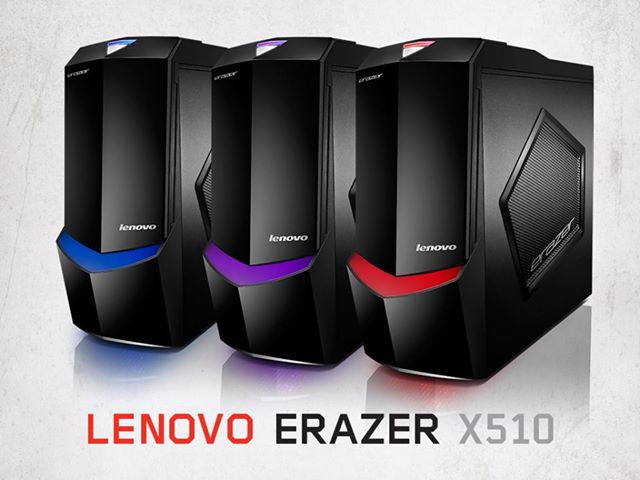 Features:
OneKey® Overclocking
Increase processor performance across all four cores with the click of a button, or via customized settings.
Dolby® Advanced Audio™ 7.1-Channel Surround Sound, S/PDIF Support
Immerse yourself in the full eight-channel audio sensation common to many home theatre configurations with Dolby® Advanced Audio™. If you opt for digital output, you can rely on Sony/Philips Digital Interconnect Format (S/PDIF) to minimize audio loss.
Ample Storage and Memory
With up to 16GB DDR3 memory, you can drive your PC's performance and multi-tasking power to the next tier. And with up to 2TB HDD internal storage plus external HDD hot-swap bay, you'll have more room than ever for all of your data. SSHD hybrid storage (available on select models) will give you faster boot times on top of it all.[more…]
Extreme Expandability
Easily install up to 4TB of additional storage space. A hot-swap external drive bay makes this especially seamless, allowing you to plug in additional storage without powering down. Or add the extreme gaming hardware of your choice, whether it be a a 5.25″ unit like an additional hot-swap bay, RAID 0 storage, or additional memory.
SuperSpeed USB 3.0 with Always-On USB Charging
Enables file transfers up to 10 times faster than previous USB technologies, allowing for lightning-fast copying of large media files, as well as seamless connections between audio- and video-related peripherals. Backward-compatible with USB 2.0 devices. Front-located always-on USB charging lets you charge devices even when the PC is powered off.
Lenovo Cloud Storage
Protect your important files and data, while also making access to information and file-sharing quick and convenient. Automatically back-up and synchronize data across your home, while enabling access from multiple devices. Data is encrypted on transfer for an extra level of security.
Specifications
Description
Lenovo Erazer X510 Desktop
Processor

4th Generation Intel Core i7-4770K Processor( 3.50GHz 1600MHz 8MB)

Operating System

Windows 8 64

Hard Disk Drive

2TB storage – (7200rpm)
Available 8GB SSHD

Optical Drive

DVD Recordable
Expansion 5.25″ Optical Disk Drive Bay
Hot-Swappable Hard Disk Frame

Dimensions

20.3" x 7.2" x 17.5"

Memory

Up to 16GB DDR3- 1600Mhz (Support Dual Channel)

Sound

7.1 channel surround sound support

Graphics

NVIDIA GeForce GTX 650 – 2GB
DX11

Weight

28 lbs

Connectors

7-in-1 card reader
mic-in
line-out
6x USB 2.0
2x USB 3.0

Integrated Communications

Ethernet – 10/100/1000M LAN, Broadcom 802.11b/g/n Wi-Fi

Read more:
http://shop.lenovo.com/us/en/desktops/erazer/x-series/x510/