Kazam is a UK-based smartphones firm founded by two former HTC UK executives, Michael Coombes and James Atkins in June 2013. This very new firm has unveiled its first seven Android handsets, and will begin selling them before Christmas to compete with Apple, Samsung and other manufacturers.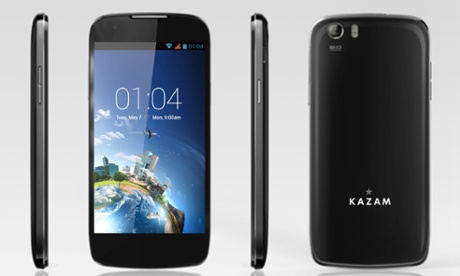 Kazam has two ranges of phones, Trooper and Thunder. The former focuses on five affordable low-to-mid range devices, while the latter includes two higher-end handsets. Both the Trooper and Thunder ranges have dual-SIM trays, removable batteries and SD memory card slots, although neither supports LTE 4G networks. The phones will all run Google's default Android software, rather than using a customised "skin" on top of it as other manufacturers have. [more…]
Customer service will be a key selling point of Kazam. It offers a year's cracked-screen replacement policy for every buyer, and a feature called Kazam Rescue that will enable its technical support teams to remotely access the devices to solve problems.
One of the Thunder range handset, the Thunder Q4.5 includes a quad-core MT6582M processor, a Mali 400MP2 graphics processor, 1GB of RAM, a 4.5-inch 854×480-pixel touchscreen display, an eight-megapixel rear camera and two-megapixel front camera. However, details of the second Thunder device, the Q5.0, are still under wraps.
The five Trooper models are named after their screen sizes: the X3.5, X4.0, X4.5, X5.0 and X5.5. The basic X3.5 model has a dual-core MT6572M processor and 512MB of RAM, a 3.5-inch 320×480 -resolution touchscreen, a two-megapixel rear camera and a 0.3-megapixel front camera.
The X4.0 has a four-inch 480×800-resolution screen while beefing up the rear camera to five megapixels, while the X4.5, X5.0 and X5.5 all include 854×480-resolution screens and five-megapixel rear cameras, but with screen sizes of 4.5, 5.0 and 5.5 inches respectively.
"Today's announcement proves that Kazam is not about gimmicks or corporate bullshit, but delivering real value, by taking a fresh approach to mobile," said chief marketing officer James Atkins.
Read more:
http://www.theguardian.com/technology/2013/nov/05/kazam-trooper-thunder-android-smartphones