Microsoft has ended its support for Windows XP (SP3) on April 8, 2014. However, Kaspersky Lab has announced that it would be extending the services of Kaspersky Endpoint Security 10 for Windows XP, even Microsoft has ended the support.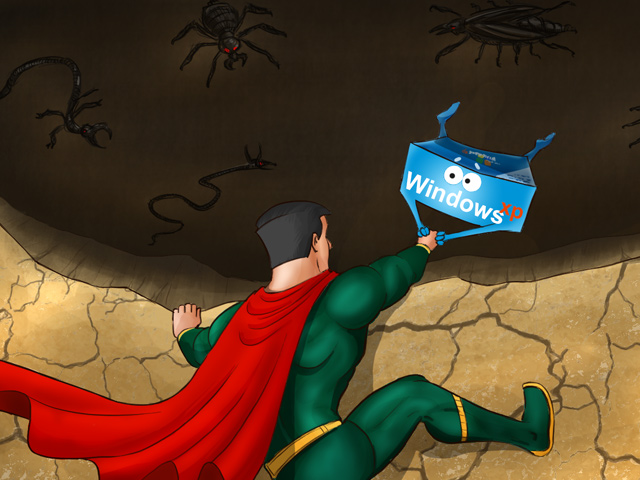 [more…] When XP users contacted the technicians at Windows support, they were warned about security issues they would encounter in their systems after Microsoft stops providing support. According to them, Windows XP would become an easy target for the hackers and spammers, who would exploit vulnerabilities in the operating system. Microsoft has thus strictly advised XP users to migrate to the latest versions of the operating system i.e. Windows 8 and 8.1. Although this is obviously Microsoft's strategy to increase the glooming sales of Windows 8 and 8.1, many experts feel the decision would backfire for the software giant. One of the prime reasons is that most of the IT firms still prefer Windows XP as their operating system because of the simple yet advanced features it comprises of. Kaspersky Lab states this fact, and this is the reason it has no plans to end support for Windows XP in the near future.
Kaspersky antivirus program i.e. Anti-Virus 2013 and Kaspersky Internet Security 2013, would continue to support the Microsoft Windows XP operating system in agreement with Kaspersky Lab product lifecycles. Sources state that Kaspersky Endpoint Security 10 for Windows would continue to support the Windows XP operating system Service Pack 3 until 2016. Although technicians at Windows support warned users about the security issues they would encounter, many users can now be said to be relieved with one of the best antivirus firms coming out to help. Kaspersky also plans to maintain support for the XP operating system in at least two versions of Kaspersky Anti-Virus and Kaspersky Internet Security products in the coming future.