Apple has officially made the debut of CarPlay, a new iPhone integration setup for car infotainment systems. The product will be added first to Ferrari, Mercedes-Benz, and Volvo vehicles, and also available as an iOS 7 update for iPhone 5 and later models. CarPlay connects iPhones with vehicles, enabling drivers to make voice calls and listen to or dictate text messages with Siri. Of course, CarPlay is also integrated with Maps and other Apple apps like iTunes Radio, as well as third-party services like Spotify and iHeartRadio.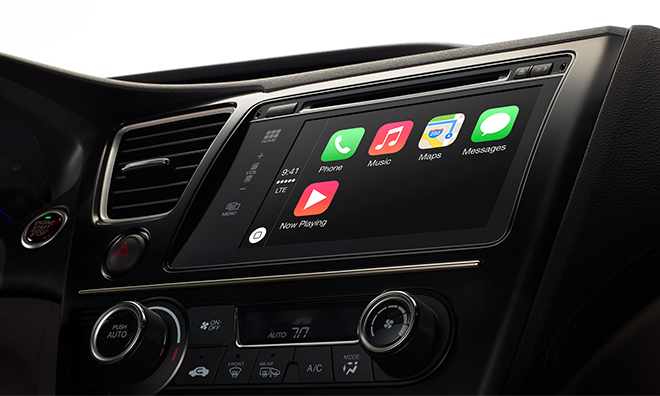 [more…] Siri Voice Control
CarPlay features Siri voice control specially designed for driving scenarios which also works with your car's controls — knobs, buttons, or touchscreen. And the apps you want to use in the car have been reimagined, so you can use them while your eyes and hands stay where they belong.
Maps
Drivers can now enjoy the simplicity of Apple Maps on their dashboard, complete with turn-by-turn directions, traffic conditions, and estimated time. CarPlay can also predict where you most likely to go using addresses from email, text messages, contacts and calendars.
Phone Call
Drivers can make calls, return missed calls, and listen to voice mail with the help of Siri.
Messages
Siri helps to send, read, and reply to your text messages while you are driving.
Music
Access your artists, songs, playlists, and iTunes Radio using your car's built-in controls. Or just tell Siri what you'd like to listen to. CarPlay will also support additional audio apps that you've downloaded to your iPhone for enjoying podcasts, music, and radio.
Read more:
https://www.apple.com/ios/carplay/
CarPlay Brings Apple's iOS To Ferrari, Mercedes-Benz and Volvo