The iPhone from Apple and the Beetle from Volkswagen will form an alliance later this year for the "genuine integrative interface". Volkswagen offers two different ways to acquire the innovative interface between iPhone and Beetle: as an app or as a standard feature of the new iBeetle and iBeetle Convertible. Both special models will be launched at the beginning of 2014.

The iPhone docking station is located at the center of the Beetle's dashboard which enables the driver to snap in the iPhone easily to integrate it with the car. All iPhone functions are applicable in the Beetle, including navigation, make calls hands-free, music enjoyment and others.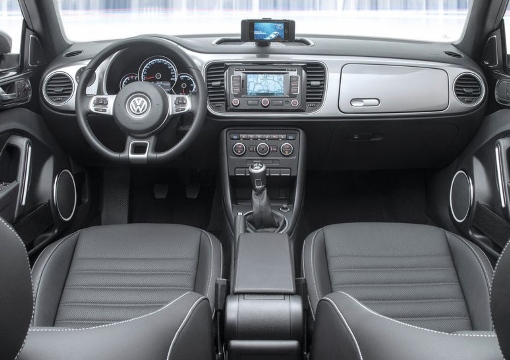 [more…] The iPhone can either be connected to the Beetle via the docking station or wirelessly by launching the special Beetle app.  Each option allows for different app functions to be accessed:
Spotify: lets users stream media such as new songs, customized playlists or online radio stations into the Beetle. Those who wish can post their favorite music directly to friends. In addition, users in the Beetle can switch between "Spotify" and "iTunes" at any time.
Expert: offers five functions which make the iPhone an extended on-board instrument of the Beetle, such as a G-Meter (for measuring lateral acceleration), oil and coolant temperature gauges for the engine, a chronometer, and a compass.
Trainer: can be used to compare driving times, distances, and fuel economy values for different routes between any two destinations. Here, too, tips can be posted via social networks like Twitter and Facebook—such as which route is faster to the office.
Reader: lists the latest messages from social networks like Facebook, and reads iPhone messages aloud.
Postcard: Sends the current location of the Beetle to friends as a digital postcard with a map motif.
Photo: Sends photos taken inside the car to numerous social networks. Simply activate it, and the app does the rest.
Milestones: Available when the smartphone is undocked. Rewards its users with virtual "milestone stickers" for the Beetle when certain tasks have been completed.
Before Volkswagen, Apple has already forged  partnerships with BMW, Mercedes, GM, Land Rover, Jaguar, Audi, Honda, and Ferrari to integrate Siri Eyes Free feature. While Volkswagen has teamed up with Apple with the newer genuine integrative interface, we would expect more models to feature Apple-specific services in the future.
 Read more:
http://media.vw.com/newsrelease.do;jsessionid=91026C807EDDCA10BF1CA5A1367AC99A?&id=1382&allImage=1&teaser=volkswagen-debuts-ibeetle-shanghai-auto-show&mid=