At the Google I/O developer's conference in San Francisco, Google surprised everyone with the announcement of a Google version of Samsung Galaxy S4 smartphone.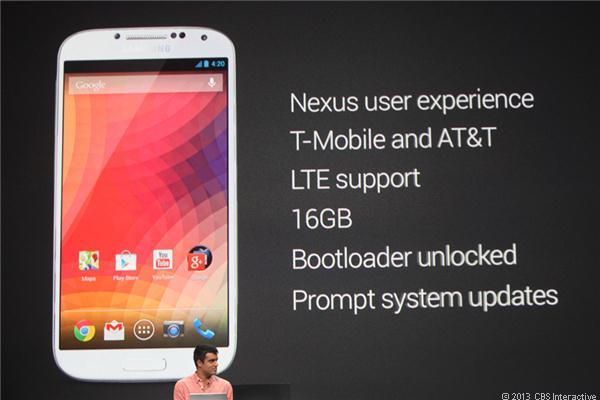 "This is Google's take on Android, and it feels really awesome on the Galaxy S4," Mr. Barra said in front of an audience at the company's annual developers conference.
The Galaxy S4 variant is going to be a Samsung phone with all the best features of Google's Nexus devices. It will feature 4G LTE and 16GB of storage space. The device runs stock Android 4.2 with the same software that runs on the Nexus 4 – meaning it's essentially an S4 without the heavy TouchWiz touch. It has an unlocked bootloader and users will receive system updates as they come in. For the most part, the device will remain largely the same. This is the 1.9GHz quad-core version of the phone with all the specs intact.
This could be a disappointment for the lack of a new branded-Nexus flagship item from Google, especially considering the popularity of last year's LG Nexus 4. However, a pure Android experience on the high-powered handset is still attractive, especially for those who do not fancy Samsung's oft-criticized TouchWiz user interface.
The Google Edition SGS4 is coming only in the U.S. and supports both T-Mobile and AT&T LTE networks. The device will be sold directly from Google's Play Store and will be available starting from June 26 for $649.
Read more:
http://reviews.cnet.com/smartphones/samsung-galaxy-s4-google/4505-6452_7-35761621.html