Intel announced the new Core M processor, a 14-nano meter design made primarily for fanless, detachable 2-in-1 models that will become available later this year. Intel Corporation president Renee James, who presented the keynote address at the Computex 2014 ICT fair in Taipei, also made the first phone call using Intel's new integrated mobile SOC SoFIA.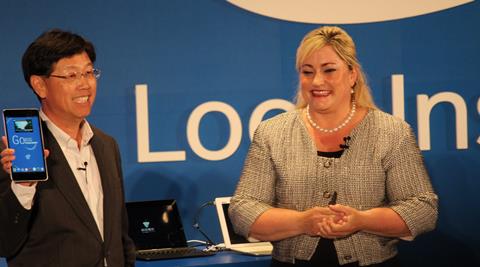 Announcing the new 14-nm chip, James said the company can now clearly see the path till a 10nm design. "This is a journey, it is not a destination," she said. Giving a glimpse of how this new processor can change the game, James along with Asus chairman Jonney Shih showcased the Asus Transformer Book T300 Chi convertible with a 7.3mm tablet side.[more…]
As many as 130 new Intel-based Android and Windows tablets are debuting in the market this year, 10 of them just from Foxconn. Foxconn executive Young Liu said the products have been made in under five months when they first started working on Intel Atom processors.
However, there was a clear suggestion that the world's leading chip maker was gradually branching out to other segments that have the potential to drive growth in comparison to its core PC market. "The lines between technology categories are blurring as the era of integrated computing takes hold," she said, underlining that increasingly it is the overall experience delivered by the connected devices that matter more than the form factor. Incidentally, Intel has already showcased a host of connected devices, even a smart shirt and has just bought a smartwatch company called Basis.
But James said she essentially views wearable devices, the focus of this edition of Computex, as the commercial side of Internet of Things, that virtual web of connected devices that talk to each other. It is estimated that globally there will be over 50 billion connected devices by 2017 compared to about 5 billion now. Later, interacting with the international media, she said Internet of Things is a substantial growth area and Intel has "a robust product offering" in the space.
Along with treading on new paths, Intel is also trying to plug its gaps, essentially created by its lack of interest in the ultra mobile, or phone segment, till recently. So SoFIA, which is a partnership with Chinese semi-conductor company Rockchip, will let it enter the entry-level phone and tablet segment which are seeing tremendous growth across globally. Making the first public phone call using a smartphone reference design based on the dual-core Intel SoFIA 3G solution, James said Intel will in the first half of 2015 bring in a quad-core SoFIA LTE part and a quad-core SoFIA 3G derivative for entry-level tablets.
This product could help Intel tap into the local manufacturer market in India too. "There is an ecosystem of developers and innovators that Rockship is well connected with. We want them to grow up and work with Intel products," James explained.
Another, product that the company is betting big on is the Asus Zenphone. These budget phones, sized between 4 and 6 inches.
But does this mean Intel is shifting focus? No says, James: "Our number one priority has been to be a leader in semi-conductor technology. That has not changed. We are applying that leadership more broadly now."