LG Electronics (LG) will showcase its next generation of smart innovations and technologies that take advantage of Natural Language Processing (NLP) to allow customers to communicate, control, monitor and share content with LG home appliances via the popular mobile messenger, LINE, and LG's HomeChat service.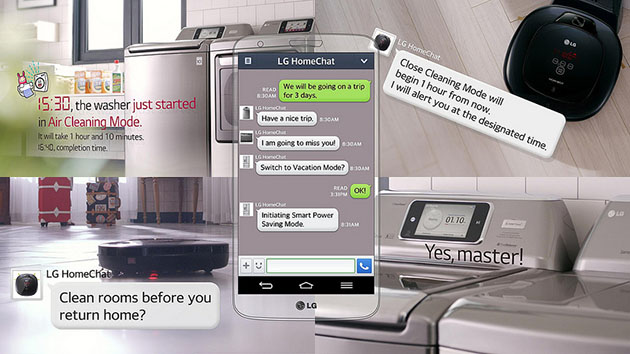 LG HomeChat was designed to be used with one of today's most popular and free mobile messenger, LINE. With 310 million users worldwide, LINE is available on all major smartphone platforms: Android, iPhone, Windows Phone, BlackBerry and Nokia Asha as well as desktops and laptops running Microsoft Windows and Mac OS X. It enables homeowners to communicate with their LG smart appliance is on their smartphone or desktop.[more…]
2014 LG smart appliance owners will be able to control all their compatible appliances using HomeChat on a single device. Simply texting "I'm going on vacation" in HomeChat will result in the automatic response, "Should I convert to vacation mode?" which when replied in the affirmative, will turn on the refrigerator's power-saving mode, set the robotic vacuum cleaner to sweep the floor at 09:00 every day and set the washing machine to run a wash cycle on the day before your return. Available initially in English and Korean with more languages in the pipeline.
The messaging capabilities of HomeChat also allow new LG smart appliance owners to be able to receive real time status updates from their refrigerators no matter where they are. Family members can upload photos to the fridge from their smartphones using LINE and displayed on the refrigerator's display panel. In addition, Smart Manager transforms the refrigerator into a complete food management system. Customers can use the LCD panel or their smartphones through the LG Smart Refrigerator app to check what's inside without opening the door. With the Smart Manager's Freshness Tracker, users can input various foods and check their expiration dates. Smart Manager also has the capability to recommend dishes to prepare based on the ingredients available in the refrigerator.
HOM-BOT SQUARE
The HOM-BOT SQUARE can be programmed to clean at set times in accordance with the needs and personal preferences of the user. Homeowners can check the cleaning history by asking HOM-BOT SQUARE "When did you last clean?" using HomeChat. The vacuum cleaner will then respond via HomeChat: "10:50 started cleaning with zigzag mode; 11:30 completed cleaning with zigzag mode." Moreover, HOM-BOT SQUARE's movement can be manually controlled using HomeChat.
A Washing Machine That Thinks For You
Using HomeChat, users can download up-to-date wash cycles to suit their personal needs and also receive recommendations via HomeChat if a wash cycle has been updated and needs to be downloaded again. HomeChat can also be used to remotely start a load of laundry, monitor the status of the washer, and receive push alerts via smartphone or LG Smart TV when a wash cycle is completed.
Recipe Recommendations with LG's Smart Oven
With HomeChatTM and Recipe Search, users can converse with their smart oven to recommend recipes for specific dishes and find out which ingredients are needed for it. Conveniently, the oven will then auto-select the appropriate settings, which helps users to avoid the hassle of having to manually set the cooking mode. Also, LG's smart oven app provides alerts when recipe updates become available, encouraging family members to whip up new and interesting meals.
Read more:
http://www.newswire.co.kr/newsRead.php?no=729901&sourceType=rss