100% Cashless for Rapid KL Bus effective from 15 April 2019!!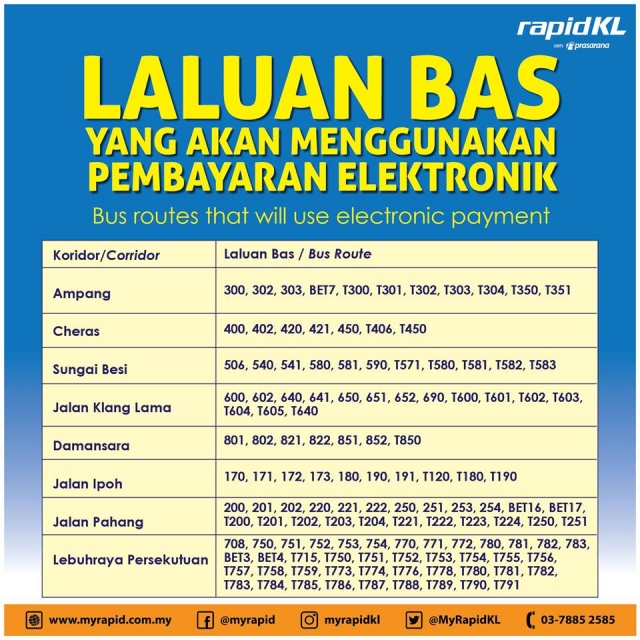 It will be by stages and by corridor:-
1) Ampang –  15 April 2019
2) Cheras, Sungai Besi, Jalan Klang Lama – 29 April 2019
3) Damansara, Jalan Ipoh, Jalan Pahang – 13 May 2019
4) Lebuhraya Persekutuan – 27 May 2019
Users may choose to use:-
Rapid KL Unlimited Pass – My100 & My50
Touch 'n Go card (20% off the normal bus fare)
* [1 & 2 – available at all LRT, MRT, Monorail and BRT customer service counters] *
MyRapid Touch n' Go Concession Card – Senior Citizen / Disabled Person (OKU) / Student (50% off fare)
* [check out more: https://bit.ly/2OTcCXS] *
MyKad with Touch 'n Go chip
⚡️Take Note⚡️
⚠️Minimum balance RM3.00 in the card before board the bus.
⚠️Bus card reader will alert 'error' if you have insufficient balance in your card.
⚠️Tap the card when boarding bus, tap again when getting off the bus. Maximum fare will be charged if you do not tap out when disembarking the bus.
More information: https://bit.ly/2Z1HOd6