At the latest launch event, the Cupertino, Calif., company announced the two newest members of Apple's iPhone family: the iPhone 5C, with a 4-inch Retina display, Apple's A6 processor, an 8-megapixel camera, polycarbonate casing (no seams or cracks), a higher battery capacity than prior iPhones, and availability in multiple colors, including white, blue, yellow, red and green. And the more powerful iPhone 5S, wielding a 64-bit A7 chip and available in black, gold or silver.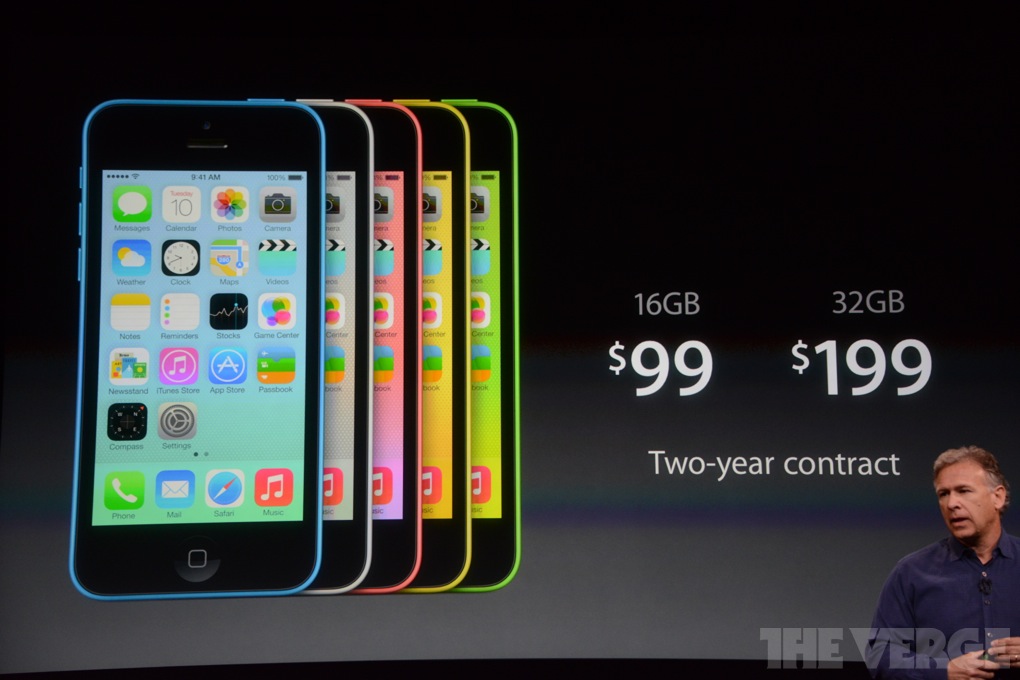 The iPhone 5C  will sell for $99 (16GB) or $199 (32gb) with a two-year contract. Colorized custom cases will sell for $29 a piece. The cases have holes in the back, allowing you to create a two-tone look if you prefer. It has the 8-megapixel rear camera and a grand new FaceTime HD camera on the front, larger pixels, and backside illumination. Also, it will run the latest iOS7.
Internally, the device seems similar to the current iPhone 5, with some improvements to battery life and front-facing camera quality. The main differences are the external design and the availability of a $200 32 GB version. It's still unclear what the off-contract price will be, and whether Apple will keep offering a free, on-contract iPhone similar to the current iPhone 4.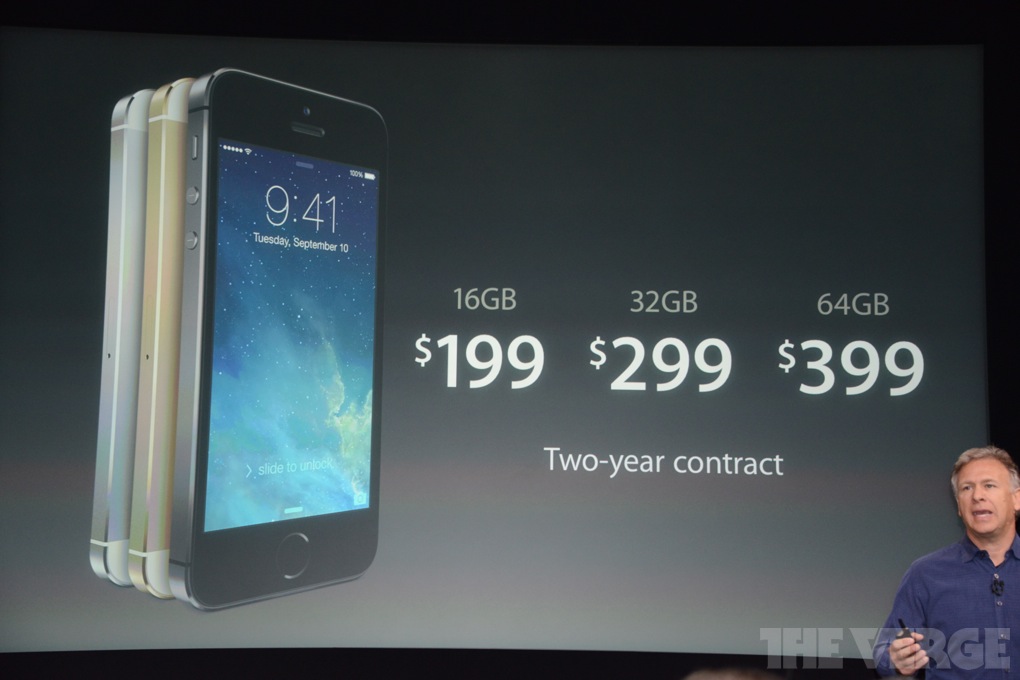 Iphone 5S
The iPhone 5S is officially available in Silver, Gold, and a "new space gray." Apple claims the iPhone 5S, by comparison, is up to twice as fast for both CPU and graphics. Apple says the new A7 processor in the phone includes over a billion transistors — twice as many as the A6 while the same size. iOS 7 has apparently been updated to take advantage of the new 64-bit architecture, too.
The iPhone 5S also includes an M7 motion co-processor, which keeps tabs on the device's accelerometer, gyroscope and compass. Apple says this will enable new types of health and fitness apps, such as a new Nike+ Move app that keeps track of how active you are.
In term of battery life, the device battery can support 10 hours of 3G talk time,  10 Hours LTE browsing and up to 250 hours of standby. It also comes with the improved camera system. The iPhone 5S's aperture is slightly larger than the iPhone 5′s, the f-number dropping from f/2.4 to f/2.2 (lower is better). It'll also do auto image stabilization, allowing you to take multiple photos at once and combine the sharpest parts of each. You can now operate in Burst Mode (hold the shutter to snap up to 10 frames per second) or use a "SloMo" camera app that lets you shoot video at up to 120 frames per second at 720p.
A new sensor namely the Touch ID Sensor is built right into the home button. It's 170 microns thin, senses 500 ppi, scans your sub-epidermal skin layers. The home button is sapphire to prevent from scratch. The ring around the home button is a "detection ring" which turns on the Touch ID sensor. You can simply touch your home button to unlock your phone.
Apple confirmed September 13 for the iPhone 5C; both  iPhone 5C and 5S will be available for purchase in United states, Australia, Canada, China, France, Germany, Japan, Singapore, United Kingdom from September 20 onwards.
Read more: