After HTC sending out their official invitation for the event on 15th October, more rumors of HTC Max has emerged.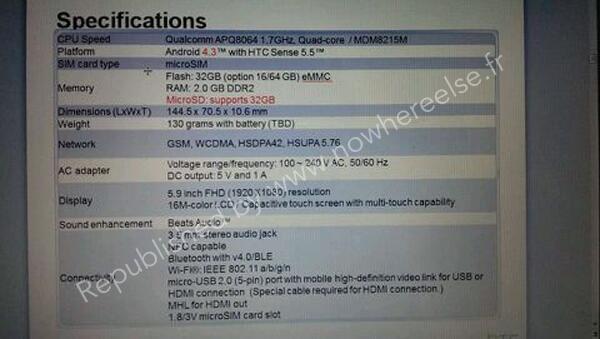 Nowhereelse.fr editor Steve Hemmerstoffer tweeted an image containing the specifications of HTC's highly anticipated phablet, providing details which fall in line with previous reports.
The One Max will have a 5.9-inch display with a resolution of 1920 by 1080, a 1.7 gigahertz Qualcomm processor, 2 gigabytes of RAM, 16 to 64 GB of storage with a slot for another 32GB micro SD card. It will run Android 4.3 Jelly Bean and HTC Sense 5.5.
There were also rumors that the phablet feature the fingerprint sensor on the back of the device. The purported icons for the touchscreen features have appeared on PhoneArena.
What do you expect on HTC 15 October event?
Read more:
http://news.cnet.com/8301-1035_3-57606847-94/htc-one-max-specs-allegedly-leak-ahead-of-launch/