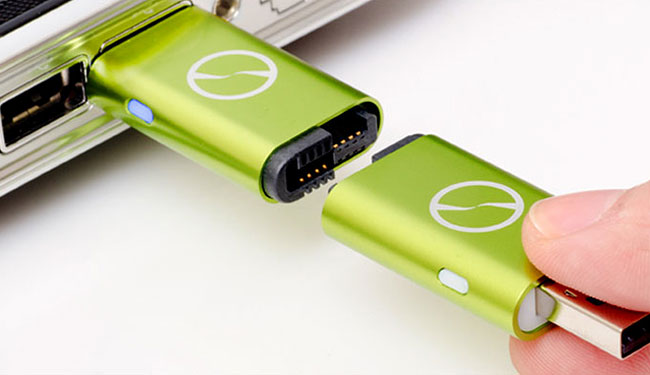 What are the specialties of iTwin and how does it work??

Plug iTwin into USB port and share your files and folders.
Detach one half
Plug that half into another computer and files transfer securely via internet
iTwin is like the two ends of the cable but with NO CABLE. It enables connection between two online computers anywhere in the world. Therefore, you may have access to any or all of your home or office computer's files and folders while you're on-the-go. Now, you could carry everything that's on your computer right in your pocket!
More features of iTwin:
Like A Limitless Capacity Secure USB Drive
iTwin allows you to securely access your files and folders, even your entire hard drive.

Remotely edit shared files
iTwin allows you to keep a single version on one computer, with you and your chosen collaborator(s) editing files on this version.

One-time cost. No fees, ever
iTwin enables you to share and access all the storage you need on your computer and home hard drive from anywhere. Thus, you need not to pay for cloud storage or subscription fees for file access.

End-to-End Encryption
iTwin doesn't store any data on itself. iTwin enables an end-to-end encrypted privacy protected connection between your office (or home) computer and your mobile computer.

Remote Disable
You may not experience the terrible feeling on the lost portable memory device anymore. iTwin allows you to remotely disable the connection should you lose your an iTwin.

Collaboration
iTwin allows you to create shared folders enabling secure collaboration among a group of people. By pairing one iTwin with each member of your group, you can share a different set of files with each member of your group. Each member of your group can access, edit or upload files to the shared folder.