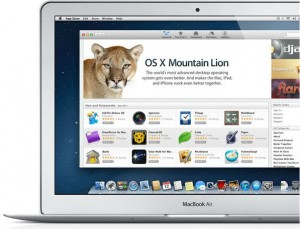 Apple Inc. released its new operating system for Mac computers on Wednesday, with features borrowed from mobile devices and a tighter integration with online file storage.
Dubbed Mountain Lion, the new software narrows the gap between the PC and phone software packages, making Mac personal computers work more like iPhones and iPads.  Apple claims that Mountain Lion will bring 200 new features including Reminders, Notes, Notification center, Gatekeeper which aims to reduce malware and others. (Read more at www.malaysiaitfair.com.my)
People are going to love the new features in Mountain Lion and how easy it is to download and install from the Mac App Store," said Philip Schiller, Apple's senior vice president of Worldwide Marketing. "With iCloud integration, Mountain Lion is even easier to set up, and your important information stays up to date across all your devices so you can keep editing documents, taking notes, creating reminders, and continue conversations whether you started on a Mac, iPhone or iPad.
OS X Mountain Lion is now available in the Mac App Store for $19.99. Before you go online to order your copy, take note that certain older Mac computers won't be able to run the latest OS.
Macs bought on or after June 11 could be eligible for Apple's Up-to-Date scheme, which provides the Mountain Lion upgrade for free. Those who qualify for this program have 30 days to request the upgrade online. A redemption code for the OS on the Mac App Store will then be emailed to the user.