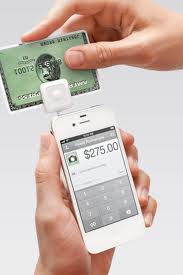 How do you think of a gadget like those wireless POS terminals shrinking into the size of an i-Shuffle that can be hooked up into one's mobile phone that can in turn transform into a mobile cash register? That allows the mobile phone or tablet to accept credit card payments in the most convenient instances.
As announced by US-based global payments solution company Visa, such wireless mobile payment solution which has been introduced in the United States will be available in Asia-Pacific this year.
Visa has actually invested in a start-up mobile payments solution company co-founded by American software genius Jack Dorsey. In 2010, Dorsey's Square Inc. unveiled "Square" a one-inch mobile device that attaches to iPhone, iPad or Android devices via the headphone jack that becomes a mini-card reader. This allows a person to swipe his credit card or ATM card, choose an amount to give to the recipient and then sign up for confirmation.
Square is also a system for sending paperless receipts via text message or e-mail and is available as a free app for iOS and Android.
The best part of it is that this Square device costs only $9.95 which makes it accessible to a broader clientele base.
Cards Payment Revolution
One only needs a smartphone and buy this gadget, put it in, sign an agreement, swipe card and use the mobile phone's broadband connection to complete payment.
For security purposes, the distribution of these cards in the future will have to be done in partnership with banks. After buying the gadget, the merchant needs to download the application, which becomes a merchant service agreement, give his bank account details and thus satisfy banks' know-you-customer requirements.
Due to the technology advancement, we can now foresee the revolutionizing credit card payment trend in our surrounding very soon!
More information at:
http://technology.inquirer.net/13993/everyone%E2%80%99s-a-cash-register