Longing for a hug? "Like-A-Hug" jacket senses when a Facebook friend "likes" your picture. It will reward the wearer by filling with air to mimic a "hugging"  sensation.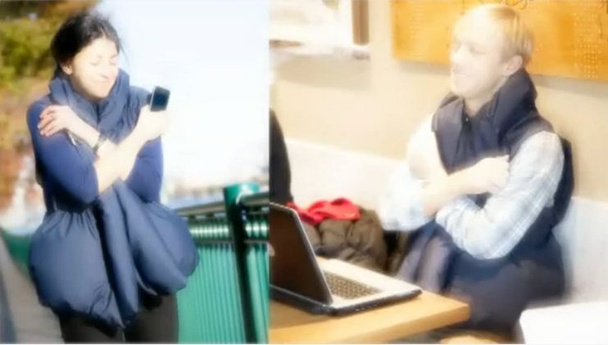 Why does the world need this artificial snuggle-shell? Explains one of its creators, Melissa Chow:
Like-A-Hug is a wearable social media vest that allows for hugs to be given via Facebook, bringing us closer despite physical distance. The vest inflates when friends 'Like' a photo, video, or status update on the wearer's wall, thereby allowing us to feel the warmth, encouragement, support, or love that we feel when we receive hugs. Hugs can also be sent back to the original sender by squeezing the vest and deflating it.
The large blue or black vest  is an internet-enabled vest automatically inflates upon receipt of a Like message, gently squeezing you to remind you that somewhere in the world, someone out there likes you. Having felt the warm embrace of the Facebook Like, you can pull out your smartphone from one of the jacket's pockets, and find out who has just 'hugged' you.
Some find that this is a silly design while some find it to fill the world with warmth. What do you think?
References:
http://www.theatlanticcities.com/technology/2012/10/jacket-hugs-you-getting-facebook-likes/3494/
http://www.afr.com/p/technology/digitallife/facebook_like_saved_my_life_mcn3J80uRFieS3hhCyOE3J