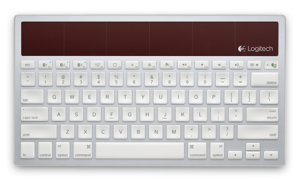 Logitech Wireless Solar Keyboard K760 is the powered-by-light, wherever-you-go keyboard for Mac®, iPad® or iPhone®.
Designed for Apple products, this small form factor keyboard has a sleek and stylish design. An integrated solar panel can charge the keyboard from any light source (including a lamp), and it can pair with three devices (such as Mac, iPad, iPhone) and switch among them at the touch of a button.
Overview of K760′s features:
Powered by light—inside and out
This wireless keyboard is powered by any light-low light and lamp light, indoors and out. Fully charged, it works for at least three months—even in total darkness.
Switch between Mac,iPad and iPhone—instantly
The easy-switching Bluetooth® connection makes typing on your Mac and switching to type on your iPad or iPhone by just pushing a button.
Mac-Friendly layout
It has a familiar layout with all the Mac keys you expect —Command, Brightness and Eject keys and more.
Light-powered keyboard
The light-powered keyboard works where you do—your house, your office, your hotel room. It charges itself with lamplight or sunlight, indoors or outdoors. It works for at least three months—even in total darkness.
Bluetooth® wireless technology
No receiver or cable needed—you'll enjoy a fast, reliable connection from up to 30 feet away, without hassle.
Feel-good typing
Logitech concave key design delivers fast, quiet typing—and offers precision for more comfortable typing on your Mac.