US retailer Hammacher Shlemmer has announced a tablet that packs an 8-inch 3D screen, and the best part is you won't need to wear glassed to see into the third dimension either. It's similar to the effect on the Nintendo 3DS.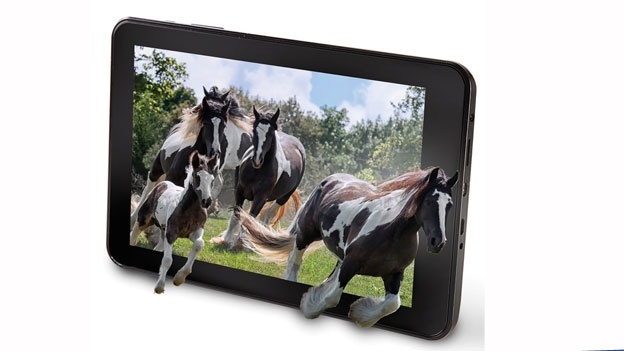 The No Glasses 3D Tablet works in 2D mode as well. Its 1,280×800-pixel resolution screen has a parallax barrier on top of it, which sends a different image to each eye. This creates the illusion of depth, so images seem to come out of the screen, or go further into it.
The tablet runs Android 4.1 for the operating system and has touch capability. It has 16GB of internal storage and supports USB drives and SDHC memory cards up to 32GH in size. The device also comes with a 2-megapixel camera, as well as a 0.3-megapixel front-facer. However, it has an uninspiring 5-7 hours.
It's nowhere near as expensive as the iPad Air though. It costs just $349.95 (£214). The tablet costs $349.95 and is set to ship on December 30.
Read more:
http://www.slashgear.com/no-glasses-3d-tablet-from-hammacher-schlemmer-breaks-cover-06307852/